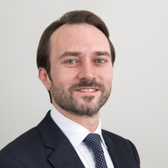 Co-AuthorPeter Ghilchik
Head of Multi Commodity Analysis
View profile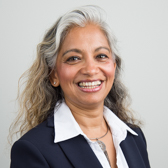 In January 2020, presented three new Macro Themes – Forex, ESG, and China re-balancing. The emergence of Covid-19 as a global pandemic has made these three themes powerful overarching trends driving commodity markets.
The political and economic response to Covid-19 has hastened and accentuated foreign exchange volatility; it has raised the importance of Environmental, Social, and Governance (ESG) issues and given voice to calls for stimulus packages to be 'green'; the global decoupling, started during 2019 trade wars, is accelerating China's economic re-balancing. These themes are influencing commodity markets in predictable ways. 
Foreign Exchange movements: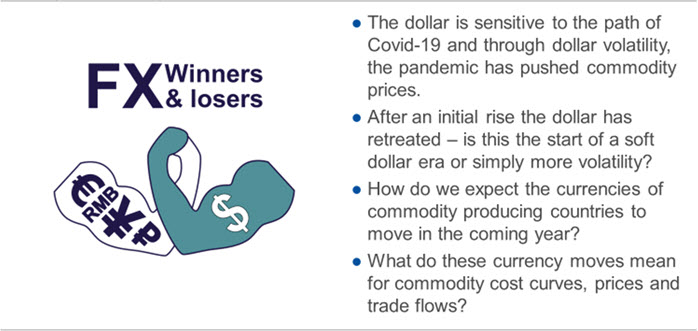 Over the past year the US dollar has strengthened, while the currencies of many commodity producing countries have depreciated, most notably in Brazil, Chile, Russia and South Africa. This has had consequences for production costs, prices and trade flows. Short-term currency movements can shift markets in a different direction than the path implied by longer-term fundamentals.
What do these currency moves mean for the competitive structure of an industry? How has the depreciation of major commodity producing countries – such as the Chilean peso or South African rand – shifted the cost curve? What this means for prices and trade flows is accounted for within our analysis across the different commodity markets.
CRU analysts are constantly updating our cost curves to account for new assumptions and analysing what this means for the market. Recent insights include 'Gold entering unchartered waters as price surpasses 2011 record', 'Foreign exchange and energy price turbulence lower fertilizer production costs' and 'How foreign exchange movements have affected the chrome market'.
China re-balancing and reform:
2020 is a critical year for China as it marks the end of the 13th Five Year Plan (FYP) and the start of the 14th FYP. It is an obvious time to review the longer-term trajectory of the economy. China has a vision to avoid the "middle-income trap" as it rebalances its economy away from investment and towards consumption and drives growth and productivity in domestic supply of high value consumer goods.
Covid-19 has been an unprecedented shock. It has led to a sharp fall in Chinese GDP growth in 2020. This theme considers the Chinese economic cycle: is China on track to deliver its desired rebalancing in the aftermath of Covid-19? Or will the slowdown be faster due to domestic vulnerabilities or escalation of trade tensions with other parts of the world?
At part of this theme CRU regularly assess the longer-term growth trajectory of China. This is done by factoring in the latest data and the changes to the multitude of policy levers that China holds – fiscal, environmental and credit policy.
Thus far we see China emerge from Covid-19 with rather unbalanced growth – where the industrial sector has recovered well ahead of the services sector. That is partly due to the nature of the shock, a health crisis, where consumer services sector has borne the brunt of the costs.
The theme also assesses the pace of structural change: how fast will China transition towards consumption goods; and the implications of this for commodities demand? For example, when will China see its peak demand in bulk, base and battery, and why?
Environmental, Social, and Governance issues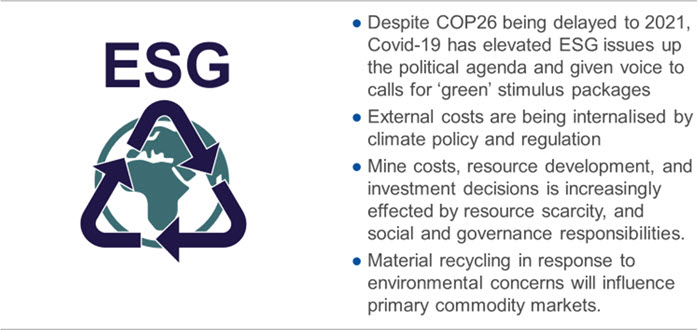 Environmental, Social and Governance (ESG) issues are increasingly at the top of the agenda for resource companies, investors, the UN, EU and national governments.
In May, it was announced that both the EU's updated 7-year €1 trillion budget proposal and €750 billion recovery fund, designed to assist the region in its revival from Covid-19, will reserve 25% of all funding for climate friendly initiatives and projects.
For natural resource companies, many external costs continue to be internalised by climate policy and other regulation, headlined by carbon abatement in the Paris Agreement of 2016, with the crucial COP26 milestone in November 2020. Material recycling and increasing scrap use is also a feature of carbon abatement but there are other drivers which will also impact primary commodity markets. Additionally, mining costs, resource development, investment decisions and capital allocation will be increasingly impacted by shifts in social and governance responsibilities.
Whether seeking approval for a new operation or certification just to stay in business, companies face increasing public scrutiny, scepticism, and examination of their social licence to operate.
CRU is addressing these topics and how they impact commodity costs and supply/demand dynamics this year, a pivotal time in which the material impact of ESG issues on commodity markets is intensifying further.
Explore this topic with CRU