Andrew is the Technical and Methodologies Lead Analyst for CRU's Steel team, based in Sydney. He supports the team with mining and steelmaking technical expertise and is responsible for steel industry decarbonisation research at CRU.
Prior to joining CRU in 2018, Andrew managed global iron ore spot sales (physical and derivatives) for BHP Billiton Marketing AG in Singapore. Before moving into this role, Andrew was part of BHP's Technical Marketing team for four years where he focused on Value In Use (VIU) modelling and analysis of technical challenges and opportunities in the iron ore market to inform marketing strategy and resource planning.
Andrew holds a PhD in Chemical Engineering and combined Bachelor of Chemical Engineering (Hons.) and Bachelor of Commerce degrees from the University of Sydney.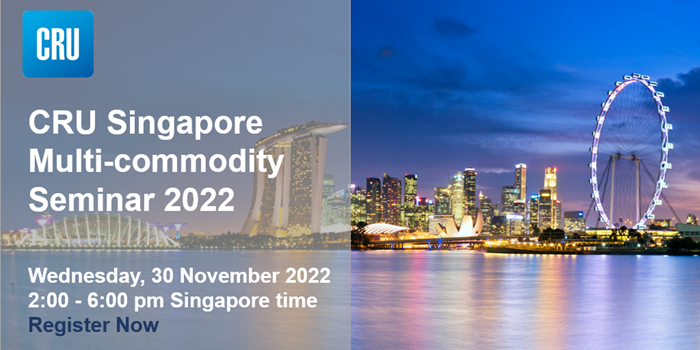 CRU Singapore Multi-commodity Seminar 2022
CRU is Back! After a three year hiatus the CRU Multi-commodity Seminar returns in style with an in-person event in Singapore. This world renown event brings together...