Chemaf, a mining company with an operating copper and cobalt mine located in the Democratic Republic of Congo, was interested in better understanding the potential financial upside of completing its downstream product offering. CRU prepared an overview of the cobalt market, aiming to support the client in maximising returns on their cobalt units.
Cobalt consumption in non-metallurgical applications has outpaced consumption in metallurgical industries in recent years due to strong growth in demand for Li-ion batteries in modern technology applications and now in electric vehicles. These applications require cobalt raw materials in chemical form, such as cobalt sulphate, and have strict quality and purity standards. Cobalt sulphate is used by pre-cursor manufacturers and cathode compound producers as well as the integrated battery manufacturers. Most Li-ion battery manufacturing is located in the Far East: China, South Korea, Japan and Taiwan.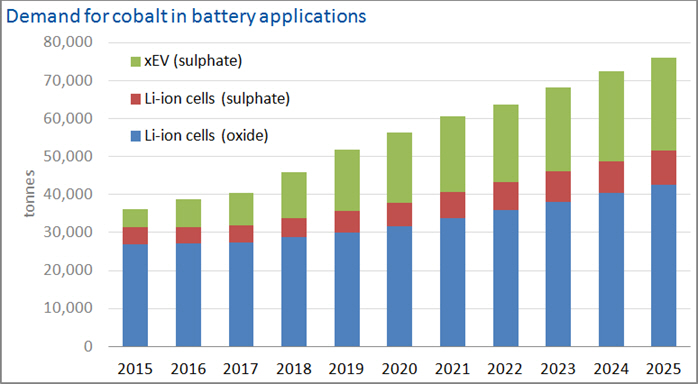 Source: CRU, Avicenne
Recent developments in cobalt demand have several important implications for the supply side. Producers are increasingly focusing on value-added cobalt products in chemical form and targeting consumers in Asia.
Our recommendation
CRU examined current and future cobalt demand and provided an assessment of the client's ability to place their planned product volume in the market.  Our team mapped potential consumers of the client's upgraded product, focusing on the requirements of their potential customers in China in terms of volumes and quality.
Our recommendations included suggestions for slight changes to the product specification: reducing the manganese and nickel levels and ensuring that lead, silicon and potassium levels stay beneath the pre-cursor and cathode manufacturers' requirements.
Finally, we examined and advised the client on trading practices for cobalt chemicals in Asia, such as the duration of contracts, the pricing formula and the average cobalt payables.
Methodology
The study relied on several data sets provided in CRU's Cobalt Market Outlook and Cobalt Monitor. On the demand side, we relied on internal databases covering main end-uses, such as electric vehicles, and external reports on the battery industry.
This regular research was complemented by primary research in Asia through contacting battery cathode and pre-cursor manufacturers. To address the questions on product marketability, CRU conducted several interviews with potential consumers to gather their feedback on the client's product specification.
Outcome
The report was used by the Chemaf management team to inform decisions on developing their cobalt products portfolio. Our research provided the client with necessary assurance on the planned production volumes and product quality required by the market. It enabled the client to better understand the main risks related to the product applications. The list of potential customers was one of the deliverables, which enabled Chemaf to form new contacts and subsequently set up meetings with potential buyers.
Explore this case study with CRU