CRU Consulting were commissioned by a junior mining company wishing to develop a more complete understanding of the global scandium market and the future demand from current and new end-use sectors.
The company owns assets covering a wide range of commodities, including scandium, a commodity that is gaining more attention following a series of breakthroughs in processing technology and investments by prominent figures in the global mining sector.
The global scandium market is tiny, with total production estimated at only 10-20 tonnes per annum, all of which is currently produced as a by-product. Despite the small size of the market, scandium had been generating some excitement over the past few years due to its potential in aluminium alloys. Small amounts of scandium added to an aluminium product are able to greatly improve its strength, formability and weldability, whilst also slightly reducing weight.
As a result, the metal has garnered much attention from a wide range of consumers. However, given the low volume of supply, no major steps have been taken to drastically increase consumption. Following a rash of new discoveries, predominantly in Australia, interest has been piqued. Prospective consumers and producers alike are looking to secure a strong position should the industry take off.
The aim of the report was to provide an assessment of upside demand potential in the scandium market, be this in existing end-use sectors such as sports equipment and military hardware, developing sectors like fuel cells and commercial aviation, or new markets. Secondary objectives included presenting an overview of current and prospective suppliers of scandium around the world and giving an overview of the trade and pricing dynamics in the market.
Our recommendations
Our analysis of the trends identified throughout our report enabled us to draw conclusions regarding the future prospects for scandium consumption, both globally and in specific sectors. These conclusions allowed our client to not only gain an understanding of the potential for demand, but also the upside and downside risks which may be encountered by the industry in the future.
Our methodology
Given the low level of industry visibility in the scandium market, CRU's report was built from the ground up using primary desk based research and discussion with industry stakeholders. Existing and prospective suppliers were identified and key information on each operation or project presented. Research on this topic was conducted primarily by our team in Australia, where several large scandium deposits have recently been found. We also utilised our presence in China through our team in Beijing, who were able to contact producers in China in order to generate a picture of existing and potential supply in the region.
Research into the demand-side and trade aspect of this project was carried out in London. We identified the key scandium-consuming sectors and undertook research to establish typical scandium consumption rates in each of these sectors. Using this information we were able to model future demand using internal (for sectors such as automotive) and external (aviation industry) forecasts combined with a set of basic, transparent assumptions.
We also utilised the knowledge and contacts of our CRU Prices team to develop an accurate picture of the trade dynamics and pricing environment in scandium.
Outcomes
Our client was able to quickly build up a clear picture of the current state of the global scandium industry whilst also gaining independent forecasts and commentary on the prospects for the market over the next 15 years and beyond.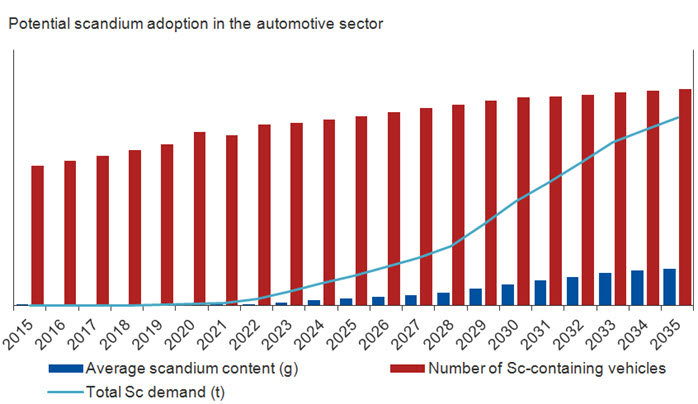 Explore this case study with CRU