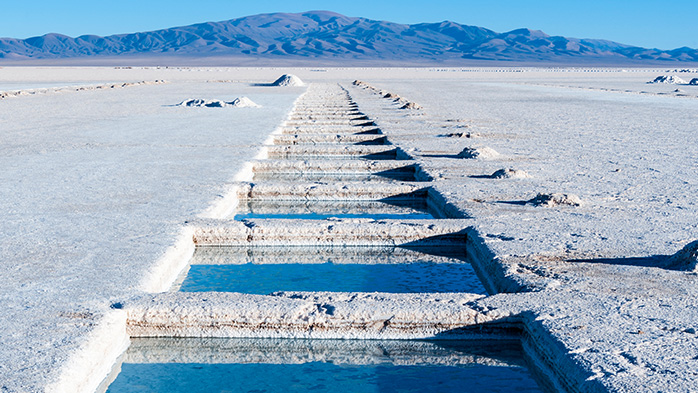 CRU forecasts that global demand for lithium will double by 2024 from today's levels.
The key driver of this increase has been an improvement to our electrochemistry modelling. Our research suggests that lithium yield losses have been largely underestimated in the past, due to the additional lithium needed to account for losses on the first charge of the battery. Lithium yield losses are also higher than for other battery metals during the cathode manufacturing stage. This has resulted in an increase to our lithium intensities for different battery chemistries.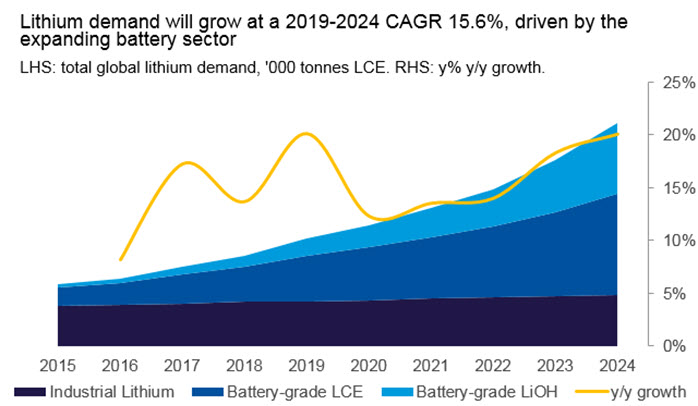 DATA: CRU
China remains engine of global xEV demand
CRU estimates that China alone was responsible for 63.9% of global BEV sales in 2018. We expect this market share to peak in 2019 at 65.2%, before steadily declining over the remaining forecast period as other regions begin to catch up in sales. While its dominance of EV demand will decline slowly, we still expect the China to remain responsible for 62.0% of global BEV sales in 2024 . This means that small changes to China's automotive market including changes to battery chemistry, battery size and EV subsidy policy have a substantial effect on the global BEV sector and subsequent lithium demand.
China subsidies face major decline in 2019
China introduced its new subsidy policy for electric vehicles in 2019 in April. These subsidies are often an important contributor to the affordability of EVs in China, and therefore have a marked effect on total EV uptake. While many in the market were expecting a year-on-year drop of around 40%, the announced scheme was lower than expected – with EV subsidies declining by 50-55% on average, depending on the vehicle specifications.
The subsidy changes are particularly aggressive against low-quality, low-range vehicles which have typically made up the bulk of the Chinese EV sector. EVs will now need a minimum energy density of 125Wh/kg and a minimum range of 250km in order to qualify for subsidies. In addition to this, all provincial-level subsidies have now been cancelled.
Chinese EV batteries will get bigger and better
Currently, the majority of Chinese EVs use small LFP batteries. Analysis of Chinese BEV sales suggests that 4 of the 5 top-selling BEVs had a battery size of less than 30kWh and used an LFP battery in 2018. However, recent sales data suggests that this trend is changing slowly – perhaps in response to the subsidy policy changes. In 2018, CRU estimates that average battery size in China was 32kWh, but our 2019 year-to-date figures suggest that this has risen to 40kWh.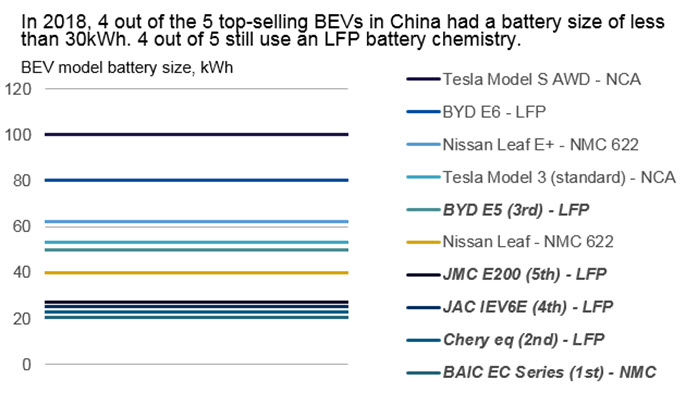 DATA: CRU
In the mid-term, this shift to larger battery sizes will have a substantial effect on lithium demand from the EV sector. CRU expects that Chinese BEV sales will grow at a 2019-2024 CAGR of 20.8%, but during the same period Chinese BEV lithium demand will grow at a CAGR of 28.9% due to the effect of larger battery sizes.
Early-2020s remains the inflection point for EV uptake
The recent decline in the automotive sector has led to some research companies forecasting that 2018 was the year when the world reached "peak ICE demand". While CRU believes that ICE sales will likely plateau over the next 5 years, our projections suggest that peak ICE demand will not occur until 2024, stimulated by Chinese vehicles sales. The early-2020s represent the "inflection point" of BEV sales, after which we expect BEVs to gain widespread adoption and significantly eat into ICE market share.
The key barrier to widespread BEV adoption currently is not a lack of demand or affordability, but rather a lack of availability. Waiting lists for popular BEV models like the Tesla Model 3, Nissan Leaf, Chevrolet Bolt or Volkswagen e-Golf remain extremely long due to a combination of large consumer demand and a lack of adequate manufacturing capacity. And while many OEMs have declared very ambitious manufacturing plans in the BEV space, these are generally timed for ramp-up in the early- to mid-2020s.
The "weak link" in widespread EV adoption continues to be vehicle availability


DATA: CRU
For this reason, CRU expects BEV uptake to concurrently begin to accelerate in the early- to mid-2020s as OEM manufacturing capacity begins to ramp up. xEV market share is expected to reach 32% by 2030, with BEV making up 26% of total vehicle sales. Total global xEV sales are expected to reach 60% by 2040 – though this could be higher depending on the degree to which various governments choose to enforce pledges made to phase out all ICEs by 2040.
Lithium Hydroxide will be 41% of battery demand by 2024
CRU estimates that battery grade lithium hydroxide demand was 24% of total battery-grade lithium demand. Lithium hydroxide is necessary for the manufacture of high-nickel cathode materials such as NMC 622, NMC 811 and NCA. The usage of lithium hydroxide during the cathode sintering stage allows the reaction to occur at a lower temperature, preventing degradation of the cathode's phase structure.

DATA: CRU
EV demand will be the biggest driver of lithium demand growth over the forecast period, and this will subsequently increase demand for lithium hydroxide. We expect battery-grade lithium hydroxide demand to grow at a 2018-2024 CAGR of 36.4%, compared to just 19.5% for battery-grade lithium carbonate over the same period.
Explore this topic with CRU