CRU recently concluded the 19th World Copper Conference, bringing together representatives of the industry and creating a forum to share ideas which will shape the copper market in the short to medium term.
In this insight, we share the main themes from our CEO panels examining if copper is charting a new course.
Covid-19, ESG and a broader greening of the world, both on the demand and supply side of the copper market, coupled with the need for further mine investments dominated discussions. Within all these topics lie both opportunities and threats for the red metal.
Covid-19 - opportunities within the crisis
The tragic events of the Covid-19 pandemic have forced changes on the industry. A key message from our speakers was that even in this time of crisis, there are opportunities for change, and thought should be given to what the future of work will mean for the copper sector.
The pandemic hit copper production acutely in 2020 Q2. However, since then there has been a rapid recovery in production. A need for effective plans to take mines rapidly and efficiently offline, as well as a roadmap to bring them back onstream became evident. Disruptions have been lower than first feared, and we have scaled back estimates for Covid-19-related mine disruptions in 2020 to 500,000 t, with Peruvian output hit hardest.
Risks to copper mining remain, especially through the rest of this calendar year and the impact on project development remains unclear. Yet, the resilience of the copper industry was a message which came through clearly at the conference. Despite the intense difficulties that Covid-19 has and continues to bring, the industry can use the pandemic to help it refocus. For us, there were three key areas of opportunity cited by our CEO panellists.
Firstly, the last year has enabled miners to undertake a period of advancement in the use of data and technology. Some of this was needed, as whole mine sites effectively became 'bubbles', with inbound supplies and outbound shipments becoming contactless or increasingly monitored. For instance, Covid-19 has further demonstrated the opportunities that autonomous vehicles bring, with more mines set to utilise them. In addition, drones are now commonplace in the industry, bringing a range of technological possibilities; from moving samples, to identifying hazardous conditions, to wall monitoring. More generally, a focus on data, technology and information could bring with it the opportunity for miners to improve efficiency and lower cash costs.
Secondly, the panellists collectively referred to how Covid-19 had provided the opportunity for miners to support surrounding and host communities, through providing supplies, sanitation equipment, and helping to coordinate vaccination and test and trace programmes. While this is the "right thing to do", it has also strengthened miners' social contracts and helped promote engagement.
Thirdly, Covid-19 has forced miners to review the strength of their supply chains. This could drive increased localisation but could bring greater efficiency and focus. It may also drive greater coordination in regions with multiple mines. Within major project developments Covid-19 has brought challenges. At the Oyu Tolgoi block cave project, coordinating 12,000 employees and contractors has been possible during the pandemic by using technological advancements and mini bubbles.
Despite the near term challenges of Covid-19 on project development, the industry must not lose sight of the need for future copper supply. We believe this supply will be more technically complex, have higher project capex than in the past, and will require a more complete social licence to operate.
ESG takes centre stage
Beyond the tumultuous events of the last 12 months, environmental, social and governance (ESG) concerns bring both opportunities and threats. What is clear is that ESG will create winners and losers, and leaders and laggards in the mining sector. However, we strongly believe that ESG is not just about a static emissions curve, but also about the conversation and real-world business decisions it will generate. Ignoring these issues is no longer an option. Future access to finance and a continued social licence to operate will be contingent on building and maintaining a solid ESG record.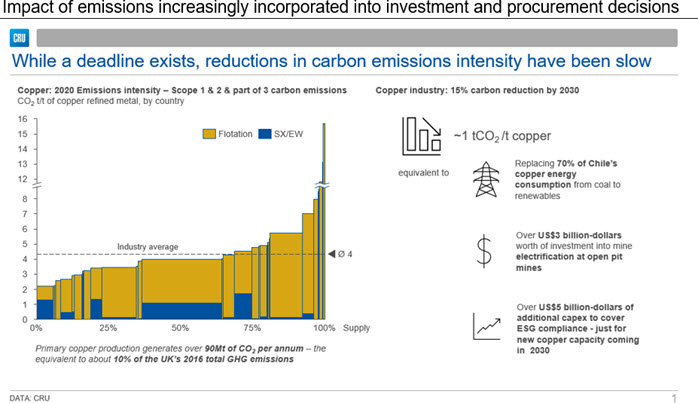 Miners are increasingly incorporating the effects of emissions into procurement and investment decisions, and they are now at the centre of daily business. One example comes from Antofagasta, where ESG is integrated into performance management. Their operations have emissions budgets with incentives offered to beat those budgets.
Currently, the copper industry taken as a whole lacks a comprehensive roadmap showing how it can decarbonise. It will be hard in some cases to re-engineer existing mining operations, especially those with small reserves and resources or those which are approaching end of life. It will also be difficult to retrofit some of the established smelters. But the need for ESG to form part of future mine and further downstream project planning is clear. Mining will also increasingly move underground, which will bring a new set of challenges and opportunities.
Technology was a key focus when discussing carbon abatement. Many of our speakers discussed how electric vehicles and autonomous trucks will bring direct benefits in terms of lowering diesel usage. Their use will also enable more efficient pit design, in turn lowering emissions per tonne of ore moved. Energy efficiency is an area where there is potential cost as well as wider ESG benefits. The advantages of utilising renewable energy was also highlighted. BHP cited a 20% reduction in costs in Chile as they convert their contracts to renewables. Antofagasta expects its electricity requirements to be fully met by renewables by mid-2022. Similarly, Anglo American is committed to a switch to renewables in Chile from 2021, as well as having plans for carbon neutrality for scope 1 and 2 emissions across their operations by 2040.
ESG is more than just hot air
Water usage dominated much of the discussion. The copper industry is increasingly looking to desalination as a way of reducing the use of inland water supplies. A focus on water recycling will bring with it cost benefits. Tailings management formed another major component of the discussion, with increased use of dry stack tailings likely, not least because of their lower use of water.
Accreditations and standards are going to be key in demonstrating progress and differentiating products in the future. Freeport cited their work with the Copper Mark and the opportunities this had created. Freeport explained that it is not a pass/fail system, but rather one where the accreditation process highlighted areas for potential improvement. Meanwhile, Hudbay explained its work with the Mining Association of Canada and the opportunities that their Towards Sustainable Mining (TSM) ratings brought.
There were a range of expectations about the trajectory of copper demand at the conference, and most were bullish. CRU believes that demand from renewables, electric vehicles and incremental demand from the electricity grid will drive nearly all the 1.5% p.a. growth in refined copper over the coming decades. It is no exaggeration to say that the future growth of the global copper market is almost entirely contingent on a rapid green transition.
Consequently, there remains a need for new mine projects to be built in the copper industry. However, it is clear from all our speakers that bringing on new mine capacity will be difficult not only due to high capital costs but also the much greater degree and range of stakeholder engagement required than in the past.
For Chile and the world's largest copper company, Codelco, maturing assets, declining ore grades, among other mining trends, represent a challenge that will require bold action. Innovation is vital to maintain the competitiveness of the Chilean copper mining industry, and large investments are necessary to keep output at current levels or expand the country's production capacity. Experience shows that careful and efficient execution of projects, keeping capex under control, is required to capture the value of the ample mineral resources in the country, and to contribute social value to the Chilean society, which will assure the industry's long-term viability.
Codelco is committed to a large investment program of $35 bn in the next 20 years. More generally, investment in the Chilean mining industry has rested on stable institutional pillars, and potential changes to the regulatory environment (a new constitution) and tax environment (a new proposed royalty) pose important questions in this regard.
Copper has a bright future, with opportunities available to those who act
The main presentations and other discussions at the 19th CRU World Copper Conference highlighted the fact that risks remain for the copper industry, both from Covid-19 and rising ESG pressures. However, strategic thinking and bold decision making could help turn any apparent threats into opportunities, not only to lower costs, but also to operate in a more sustainable and inclusive manner, and ultimately provide for the longevity of the copper industry.
CRU's commodity expertise, depth of coverage and robust methodologies – developed over 50 years of independent research and analysis – gives you the confidence to make decisions quickly and effectively.
If you would like to discuss any of the issues raised, here or any other aspect of the copper industry, please contact us via the button below.
Explore this topic with CRU
To find out how our Base Metals team can help you, visit our dedicated site here.