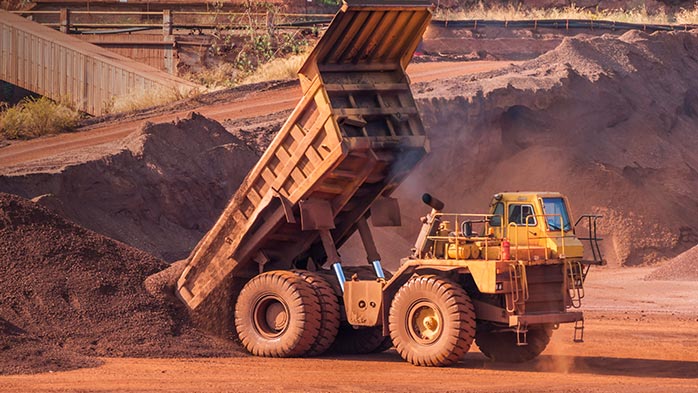 Political upheaval in Guinea has highlighted potential concerns surrounding bauxite shipments to alumina refineries in China and the Atlantic region.
Following a period of heavy gunfire near the presidential palace in Conakry on Sunday morning, an army unit has announced it has seized power in Guinea, deposed the president Alpha Condé, and imposed an indefinite curfew. Col Mamadi Doumbouya, reported to be leader of the apparent coup, addressed the national broadcaster, and announced that the country's parliament and constitution has been suspended and the borders shut.
There had been several recent instances of social unrest in the country, sparked by those that were frustrated by last year's constitutional change to allow President Condé to run for a third term. The uncertainty now from a political standpoint is whether the military juntas deliver on their announcements. This is the fourth attempted coup in West Africa in just over 12 months.
Guinea is a major bauxite producer. CRU estimates that the country produced 77.8 Mt of bauxite in 2020, representing 21.8% of total bauxite supply. The importance is starker in the third-party market. There is one alumina refinery operating in the country, and so nearly all the bauxite is exported to alumina refineries in Asia, Europe and North America. Guinea has become entrenched as a major bauxite exporter to China in recent years. China imported 52.7 Mt of bauxite from Guinea in 2020. This is up 10.9% y/y, and accounts for 47.2% of all of China's bauxite imports. There is precedence for unrest in Guinea to support alumina spot prices and fuel bullish sentiment in the aluminium market. The Chinese aluminium industry's dependence on imported bauxite from Guinea has grown considerably in recent years following the deterioration in quantity and quality of domestic bauxite reserves.
However, there are important points to note as to why the impact on alumina production will be limited. A principal reason is because of the significant quantity of bauxite stockpile that China has built in recent years. CRU currently estimates cumulative bauxite stockpiles to exceed 50 Mt in China, and so be equivalent to around six months of imported bauxite consumption. The bauxite market has been crippled by surplus tonnages since 2019 following the influx of miners in Guinea, and a highly competitive third-party market. This was already forcing some of the junior miners to close operations and introduce austerity measures in underwhelming bauxite market conditions.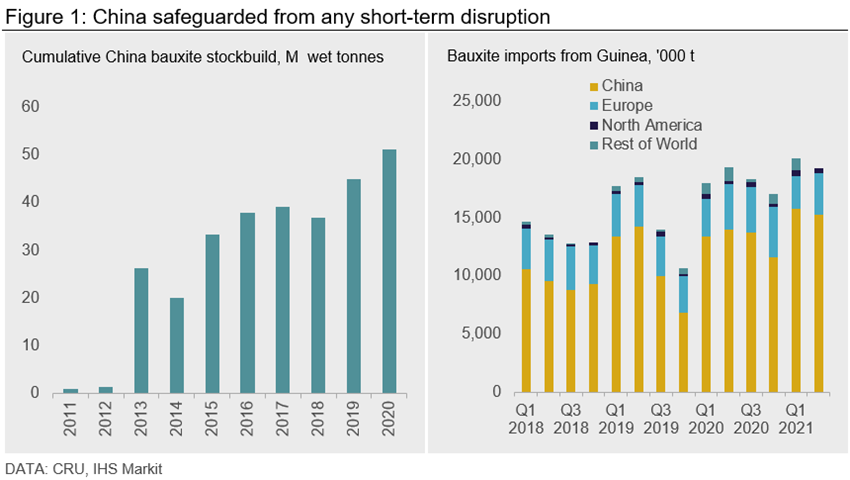 The furore is currently confined to the capital Conakry, and CRU has received indications that there have not been any disruptions to the major bauxite mining operations located northwest in Boke, Boffa and Sangaredi. There are yet to be instances of a disruption to vessel loadings at the port, and one logistics company has informed CRU that there have not been any vessel diversions across the Atlantic at this early stage.
Military juntas are notoriously fickle, with no-one to hold them to account. Given the volumes in transit, sufficient stockpiles, and available alternative tonnages out of Australia and Indonesia, it would likely take a disruption to last for several months before Chinese consumers become overly concerned on bauxite procurement.
Initial feedback from bauxite consumers in China has been calm so far, and export processes are unlikely to be impacted while employees at government departments continue to attend work as normal. Several mining rights were granted prior to the Conde administration, and it will be in the interest of the ruling party to benefit from bauxite export earnings.
The uncertain political climate may hamper upcoming mining investments in the country, but several upcoming bauxite projects were already facing a difficult market environment amid the sharp ramp-up of Chinese joint venture bauxite mining projects over the past two years. The added competitiveness of utilising capesize vessels to transport Atlantic ore to China has also waned this year following the volatile ocean freight market.
Elsewhere in the commodity space, Guinea also hosts the Simandou Range, one of the largest undeveloped iron ore deposits in the world. Simandou is in the remote eastern interior of the country, far from the western coastline which must be reached to access the global seaborne market for iron ore. Geopolitical risk has been one of many hurdles hindering progress of Simandou and the military coup that is now unfolding marks a significant deterioration in the prospects for successful development of the deposit. Sourcing the finances for Simandou has proved very difficult and the uncertainty generated by the current developments will challenge the commitment of interested parties.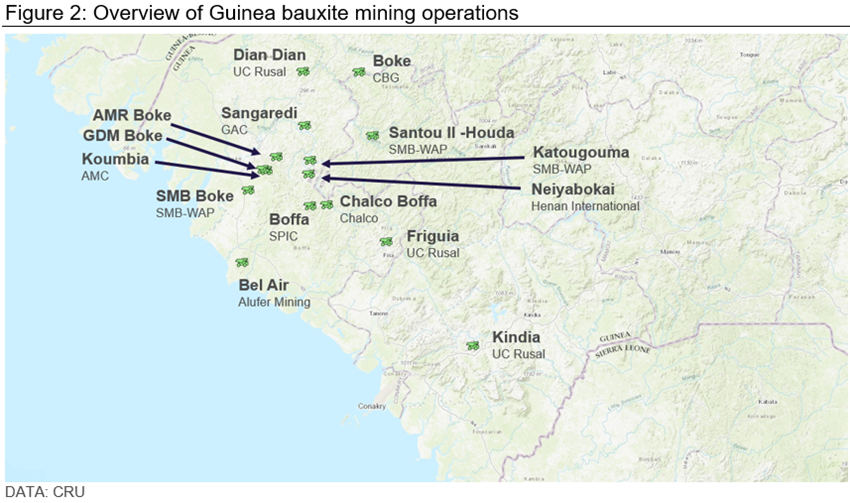 The coup in Guinea is the latest shot in the arm for the aluminium raw material markets, which have been exposed to several supply-side shocks this quarter. Disruptions in Brazil from equipment damage, a devastating refinery fire in Jamaica and a precautionary closure of a plant in Louisiana prior to Hurricane Ida had already lifted alumina spot prices to their highest level since June 2019. Aluminium prices, meanwhile, are at a ten-year high. Ample supply has resulted in bauxite prices lagging in comparison, but the situation in Guinea provides upside risk to bauxite prices over the short-term.
Explore this topic with CRU