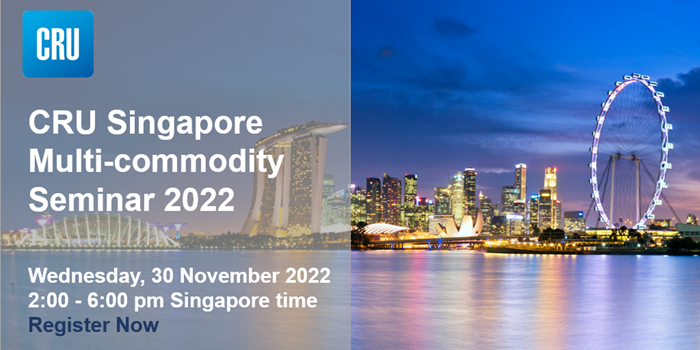 CRU is Back! After a three year hiatus the CRU Multi-commodity Seminar returns in style with an in-person event in Singapore. This world renown event brings together Asia's leading mining, metals and financial institutions providing guests with the latest market updates and the opportunity of key networking during this special event.
Date: Wednesday, 30 November 2022 
Time: 2.00 - 6.00pm, Singapore time
Cost: FREE
Venue: The Westin Singapore, 12 Marina View, Asia Square Tower 2, Singapore 018961
(The registration is closed.)
Representatives from major producers, traders, banks and government bodies as we interrogate today's most important issues and model some of tomorrow's exciting possibilities.

CRU provided critical insight and analysis into decarbonization across complex supply chains, challenging geo-political scenarios, green premiums and the financial impact to a dynamic global landscape.
Watch the event highlights of the CRU Multi-commodity Seminar here!
Explore this topic with CRU