In the first edition of this annual Insight, CRU takes a step back and reviews the key changes and developments in the optical fibre and cable industry in 2018, highlighting the lows and highs, alongside key moments and advances in technology. Furthermore, we shine a spotlight on the key market moving topics and upcoming research areas CRU's Wire and Cable Team will be focussing on in 2019.
Global growth stifled by China in 2018
2018 was a rocky year for the optical fibre and cable industry, one marked with numerous highs; such as surpassing the one billion level for fixed broadband subscribers, but also a year of lows; namely the first time in 16 years the Chinese market has contracted. Indeed, this downturn in China acted as a drag on global optical cable demand, which following a four-year period of double digit growth, slummed to just 4% y/y in 2018. Let's take a look at some of the driving forces behind this slump and other key moments in the industry last year.
Selected highlights from the 2018 optical fibre and cable industry
World optical cable market growth decelerated, rising only 4% in 2018. This is the lowest year-on-year growth rate since 2003. The slowdown was due to a flat year in China's market.
The world's preform capacity increased last year, namely as a number of producers in China expanded operations. This increase, combined with the flat market, caused the two-year fibre shortage to end by mid-2018.
The world's largest optical cable customer, China Mobile (CM), ordered less than the amount indicated in its tender for H1 2018 and never issued a tender for H2. This shortfall was the main reason for no growth in China's 2018 demand.
US tariffs on cable and assemblies made in China had little effect on the amounts exported from China to US, according to trade statistics as reported in US dollars.
Prysmian closed its acquisition of General Cable at mid-year. With its Q3 results presentation in November, Prysmian said the merger is proceeding as planned and achieving the synergies it expected.
The world's total of fixed broadband subscribers passed one billion in 2018, reaching 1.06 billion. Of these, 511 million were connected on FTTP or FTTB networks. Of that 511 million, 325 million or 64% were in China.
Undersea optical cable installations totalled the most in any year since 2001. In addition, several previously installed cables were upgraded with faster transmission systems. And, several major new transoceanic systems were announced in 2018, indicating continuing near-term for undersea cable.
The robust demand growth in recent years has stimulated substantial investment in production facilities. The amount of new preform and draw capacity brought online in 2018 was a record. In addition, several companies commissioned new cable factories and added capacity at other sites.
Several world-class cable makers demonstrated new designs for compact cables with fibre counts in the thousands. Some designs had counts of 6,912 fibres, using partially bonded ribbons (flexible, rollable, or "spider-web" ribbons). New high-count designs also use 200-µm diameter fibres.
Orange and other French companies installing FTTH networks said that they were progressing well and could possibly complete their FTTH buildouts a year ahead of schedule. France's optical cable demand increased 33%, making France the world's fourth largest market after China, the US, and India.
India's state-funded BharatNet program made further progress, along with demand among CATV, mobile, and fixed operators. As a result, the country's cable demand increased 19% to a record high level. Further consolidation among India's mobile operators improved their financial positions and spectrum holdings.
Cloud computing and Internet traffic continued to drive demand for more capacity and new fibre routes for data-centre-interconnect applications. These new routes include metropolitan, long-distance, international, and new submarine cable systems.
The 3GPP standards committee approved the "5G standalone new radio (NR) specification on schedule in June. Around the world, major carriers continued work on 5G field trials. In October, Verizon introduced 5G commercial service for fixed-broadband applications in four US cities.
Downgrades to China Mobile the driving force behind slower growth
As highlighted above, the predominant reason behind our downward revisions is weaker-than-expected orders from CM. After issuing a H1 tender of 110 million F-km of standard (loose-tube) optical cable, many market participants expected demand from the company to reach 200 million F-km in 2018.
However, CM's actual monthly consumption throughout 2018 fell far short of the tender's level. It is not yet clear whether CM has completed procurement of 110 M F-km under that tender. Late in 2018, some suppliers said the tender amount had been used up in Q4 2018, but one supplier said this month that CM was still placing orders under those contracts. Further, we understand that China Mobile has yet to announce its tender for 2019 and as such, we expect the numerous provincial operating companies to be utilising stock which was accumulated late in 2017 and throughout 2018.
CRU downgraded our view for CM installations at numerous points last year, which subsequently has stifled our estimate for global growth in 2018, which we now expect expanded by just 4%. Meanwhile, key markets such as western Europe, North America and India continued to grow strongly, spurred on by large-scale FTTx rollouts, although this was not enough to offset such declines in China. The chart below shows the significance of these downwards revisions on the global market.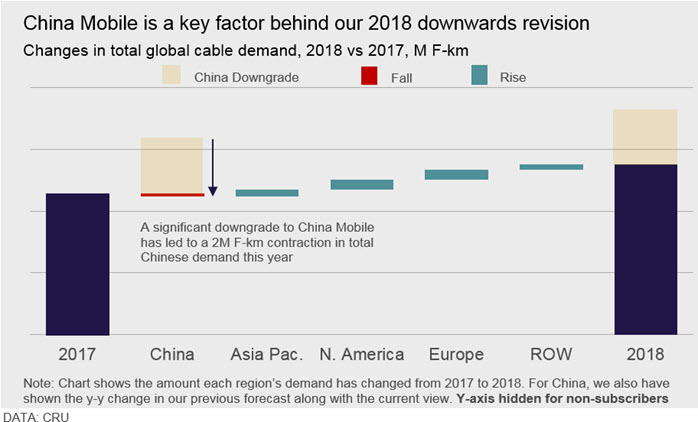 Outlook for 2019 dependent on China Mobile's next tender and 5G deployment
As 2019 progresses, there will be more information about the amount of fibre installed in 5G infrastructure and other new local applications, especially as China ramps up 5G network testing. This should provide greater insight into the strength of the next generation of fibre deployment, "beyond FTTx". Whilst it looks increasingly likely 2019 could be another lacklustre year, commercial 5G rollouts beginning in 2020 will provide an uptick in demand moving forwards. With this in mind, let's take a look at some of the key market drivers and focus areas for CRU research in the coming year.
Examples of key topics we will be watching in 2019
When will CM issue a new tender for standard loose-tube single-mode cable, and how much fibre will the company procure in 2019? CM is progressing with large-scale 5G network trials, which may give some insight to the amount of fibre installed per 5G cell site or metro area.
Will the proposed merger of US operators T-Mobile and Sprint receive final regulatory approvals? This would combine their spectrum holdings and capex budget, with the potential for extending 5G construction to more areas simultaneously, affecting cable installations by the combined company and tower-company partners.
After two to three years with successful demonstrations of G.654.E fibre in long-distance networks, and near-term commercialisation of 400-Gbps transmission equipment, will 2019 see deployment of these technologies on new long-distance routes? We note that several operators have announced plans to upgrade their long-distance networks.
In 2018, we said we'd watch 4K, 8K, and HDR video technologies as possible bandwidth drivers. These technologies remain at early stages of commercialisation, but we'll keep watching. Meanwhile, video services over 4G and in the near-future 5G, are worth watching as key drivers of IP traffic throughout the world.
Could uncertainties caused by the US-China trade war, the status of the UK's Brexit strategy, Brazil's new government, and other economic trouble-spots affect GDP growth and corporate financial performance to such an extent that fibre deployments also are affected?
Russia's optical cable market showed signs of improvement in 2018, but the year-on-year growth was slower than that of other key Eastern European markets. Will Russia's optical cable demand accelerate in 2019?
For companies such as AT&T, Verizon, T-Mobile, and others with plans to introduce commercial services over 5G networks, what will be the success with subscribers and increased revenue streams? That is, how fast will customers upgrade from 3G or 4G to 5G, and will new IoT customers make a significant contribution to revenues?
Will AT&T's fibre demand diminish after it has met its commitment to the FCC to pass 12.5 million homes with FTTH in Q3? How much fibre will the company need for other parts of its US networks, especially for 5G antenna sites?
Key cloud and Internet-services companies will continue to build large data centres, including the massive "hyper-scale" data centres around the world. But will an increase in the number of local or "edge" data centres make a new contribution to fibre demand for data-centre interconnect and for cabling inside the data centres?
Will large operators in the UK and Germany make a significant shift from FTTN to FTTH? Will government programs and regulatory policies affect fibre demand in other markets with FTTH construction getting started? Will there be any resolution to proposed changes in Italy's telecom industry structure – who owns and operates the networks?
Will Internet and cloud service companies such as Amazon, Facebook, Google, Microsoft, and others step up their investments in undersea cable systems and other international markets? Will they drive a shift to higher-count cables in undersea applications?
How much fibre will be installed in Japan as NTT DoCoMo prepares for its commitment to have 5G service available in time for the 2020 Summer Olympic Games in Tokyo? Upgrades in Japan's metro networks have been cited among the justifications for new compact high-count cables with rollable ribbons. Will such cables contribute to stronger growth in Japan's fibre market?
CRU will be tracking developments in these key areas closely during the coming year, providing in depth commentary and analysis across both the Optical Fibre and Cable Monitor and the Telecom Cables Market Outlook.
Explore this topic with CRU