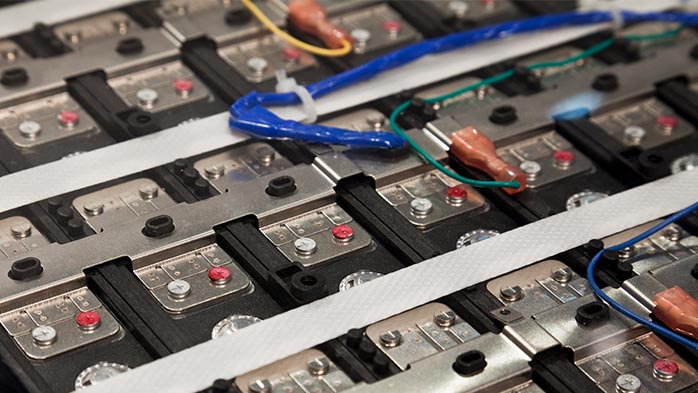 CRU hosted its very first Chinese language Technology Metals Seminar in Shenzhen, China on 19th September 2018. 
The seminar brought together CRU's Technology Metals experts and industry leaders in China across cobalt, lithium, nickel, graphite and EVs. At the seminar we showcased the depth and breadth of CRU research with a global team of Analysts and Consultants based in CRU offices in Beijing, Shanghai, Sydney and London.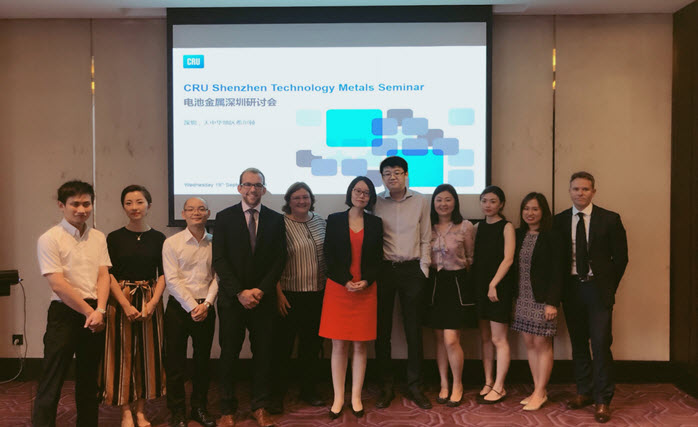 Photo: CRU
Four major areas of discussion and interest emerged: technology, recycling, nickels sulphate supply and the on-going financial viability of the EV industry in China. In more detail:
Slow uptake of high nickel battery technology including NCM 811, and the impact on cobalt and nickel demand was the most discussed topic at the seminar. Many attendees are concerned with the difficulties in commercialising 811 technology in China and highlighted the recent failed test trials of 811 in EVs. While using less cobalt and greater amounts of nickel in NCA or NCM 811 batteries is the next paradigm for lower cost and better performance, technology bottlenecks remains before their widespread adoption. Cobalt acts as the stabiliser in the battery cell and using less cobalt will affect battery safety (other things being equal). CRU believes Chinese companies will be able to overcome the 811 technology bottleneck, given time; and that the 811 share of the lithium-ion battery in China will start to experience sizable growth from 2022/23 onwards.
Raw material security becomes less important than cash flow. Accessing raw materials is no longer the most pressing concern for Chinese players in lithium (supply no longer a bottleneck this year), cobalt (increases in cobalt sulphate capacity), nickel (battery accounting for a small proportion of total demand) and graphite (large of amounts of projects under planning). Compared to maintaining Profitability faced with the newly implemented Chinese EV policy in 2018 which has been negative for Chinese EV makers. Both cost and profitability concerns are subsequently being passed upstream in the Technology Metal value chains. Liquidity tightening is affecting viability of companies along the EV value chain in different ways. Battery and cathode makers are running on low liquidity due to a mismatch in the payment terms between their customers (automakers) and their suppliers (material suppliers). At the same time, liquidity tightening has also caused a series of de-stocking along the value chain, in particular in lithium. This has further increased market supply, adding downward pressure to the lithium spot market price.
Longer term impact of recycling is another hot topic as the industry is conscious with the potential impacts of end of use EV recycling on primary commodity demand, and how recycling will affect future value and volumes along the supply chain. CRU believes while recycling is an important trend, the actual impact is still very limited due to an absence of available scrap, with most of the current pool of EV's being powered by cobalt and nickel free batteries. We do not believe recycling will be a big contributor to cobalt, and to an even lesser extent, lithium and nickel supply until after 2025. Until recently EV sales has not been sizable; EVs sold in recent years are likely to enter the scrap pool around 2025; the tiered usage of batteries in EVs for small scale stationary storage will further delay when the batteries become available scrap for recycling. In China, battery recycling capacity also face high capex cost for a fully automated dissembling and production line that would be complainant with environmental regulations. In the mid to long term, technical flexibility to be able to accept both primary and secondary raw materials will confer significant options and hence potential value to the capable companies.
Nickel sulphate from NPI. Players in the nickel upstream supply chain have been assessing the costs and technologies associated with different routes of nickel sulphate production and the potential for increasing nickel sulphate supply from both Indonesian and Philippine laterite ore via the hydromet route. CRU Consulting has completed multiple assignments evaluating the nickel sulphate cost structure by sources of nickel (refined nickel, intermediates etc.). Tsingshan has publicly announced that it is planning to produce nickel sulphate directly from NPI and has already started ground work at the accompanying 30kt NPI line. However, work at the nickel sulphate facility has not started and while it is technically feasible to produce nickel sulphate using NPI, the economics of this new production route remains to be seen.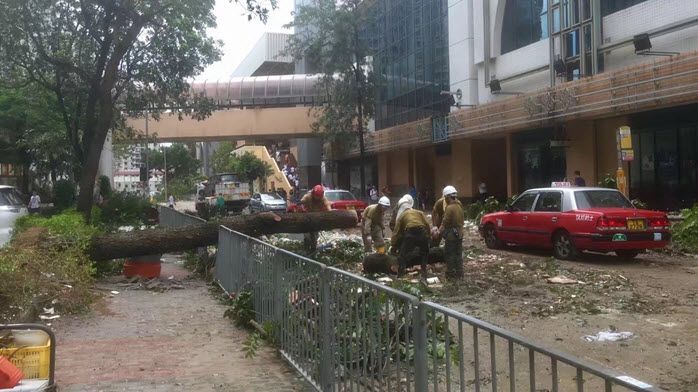 Photo: CRU
The seminar crossed into the aftermath of two successive typhoons, Barijat and Mangkhut. Mangkhut was the second of the two typhoons and was the strongest to strike the Hong Kong/Shenzhen area since 1983 and resulted in widespread damage. Both CRU and seminar attendees overcame logistical difficulties in making it to the seminar. Many thanks to all our clients and friends who still travelled to meet us.
CRU continues being thought leaders in Technology Metals and EV research, we are on the pulse of the market China which continues to dominant the global EV demand and supply chain. If you are interested in any of the hot topics mentioned above please get in touch with us to discuss further.
Explore this topic with CRU