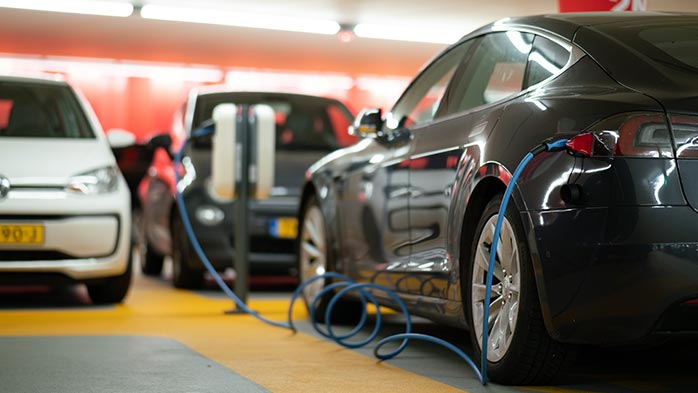 The specialty phosphates market typically refers to phosphate containing products that are not fertilizers or animal feed.
This includes phosphate salts used in industrial detergents, food preservatives, water treatment and drilling muds. Demand for some of these products has tapered off on changing regulatory environments and technological advancements. But new markets are developing, and quickly. Technical MAP for water soluble fertilizers is growing quickly, and the rapid rise of lithium iron phosphate batteries (LFP) is garnering more attention. This Insight focuses on what the growth of LFPs means for the phosphate industry. The research and data presented is an excerpt from the recently published Industrial and Food Grade Phosphate Market Outlook.
Find out more about CRU's Industrial and Food Grade Phosphate Market Outlook
What are lithium iron phosphate batteries?
Lithium iron phosphate (LFP) is a phosphate-containing material used in battery cathodes. The battery can be used for numerous applications such as consumer applications and grid energy storage, but its primary use is in electric vehicles (EVs), particularly in China. Pure LFP is usually combined with a small amount of carbon to form LFP cathodes.
LFP batteries have less energy density than other batteries, notably nickel-manganese-cobalt (NMC) and nickel-cobalt-aluminium oxide (NCA) batteries. As EVs became more popular, these other batteries became the dominant technologies in the late 2010s.
Recent progress in LFP battery technology, however, has increased its adoption prospects. The most advanced LFP batteries are comparable and sometimes arguably better than other battery technologies.
LFP batteries are cheaper and contain neither nickel nor cobalt, both of which are limited in reserves, have volatile and high prices, and can involve ESG issues. Iron and phosphate are used to produce LFP and both are abundant. LFP batteries are also more durable, allowing more charging cycles.
Purified phosphoric acid or tMAP are consumed in the LFP production process. Minute quantities of carbon are usually added to LFPs to make LFP battery cathodes. The battery cathodes are then combined with other battery components to produce LFP batteries.
Big in China and making inroads elsewhere
Sales of LFP vehicles are overwhelmingly concentrated in the low-end Chinese EV market. But LFP EVs are projected to expand across the rest of the world. Tesla is launching more LFP-powered models in China, but it is also starting to produce LFP models in the United States. BYD in China recently announced that all its future EV models will have LFP variants. Volkswagen announced in March 2021 that it will deploy LFP batteries in its entry level EV models.
As more LFP capacities commission and raw material supplies adjust to demand, we expect LFP's fundamental cost advantages to show. In addition to greater penetration, the rapidly rising EV market size will also help propel LFP demand growth.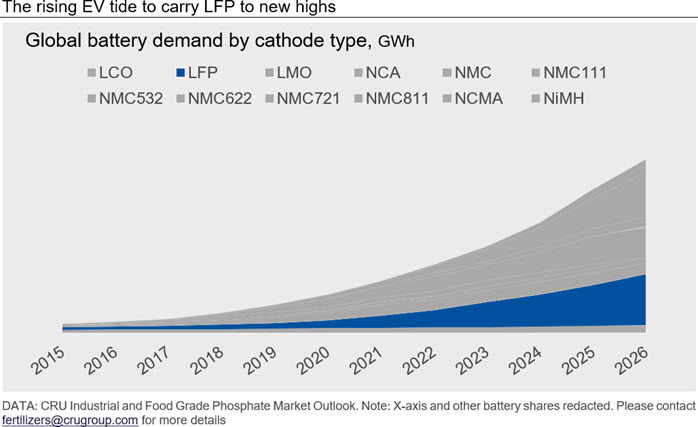 Will LFP absorb China's P2O5 surplus?
Despite current high prices and tight supply, China is structurally oversupplied with downstream phosphate capacity. As a result, its producers have diversified away from commodity grade fertilizers to more industrial grade products such as tMAP. Capacity expansions in these markets have also subsequently outweighed demand.
Based on CRU's cathode forecast and our understanding of producers' choice of phosphate input, we expect LFP production to contribute to rising tMAP demand to 2026. There will also be an increase in purified phosphoric acid demand.
Though talks of LFP upending the phosphate industry are likely overblown, LFP will consume significant industrial phosphate output in China. As demand from electric vehicles continues to rise, more industrial phosphate production will be diverted to LFP. Foreign phosphate producers are unlikely to benefit directly from LFP over the near term, as China is likely to remain the dominant producer. However, international phosphate producers may benefit from slightly reduced Chinese industrial phosphate exports.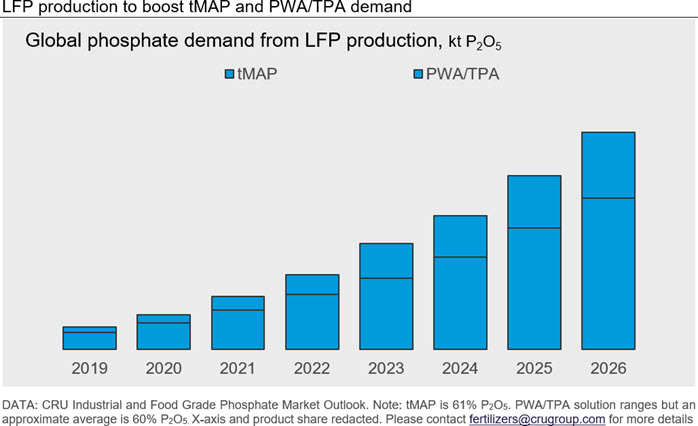 LFPs give the specialty phosphate market a needed boost
After years of terminal decline and stagnation, there are signs of new life in the specialty phosphate market. Growth in demand from the LFP sector is unlikely to upend the market over the coming five years, but the longer-term signals are positive. And growth in this sector, along with the burgeoning water-soluble fertilizer market, will help to boost demand for upgraded phosphoric acid.
The LFP market is studied in greater detail in the recently published Industrial and Food Grade Phosphates Market Outlook. This report includes analysis, data, prices and forecasts for the purified phosphoric acid, thermal process acid, elemental phosphorus (P4), tMAP, STPP, SPA and other phosphates salts markets. Please contact us via the form below for more details.
Explore this topic with CRU