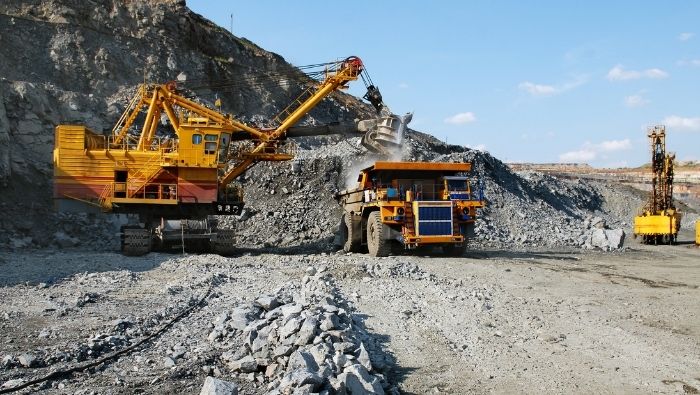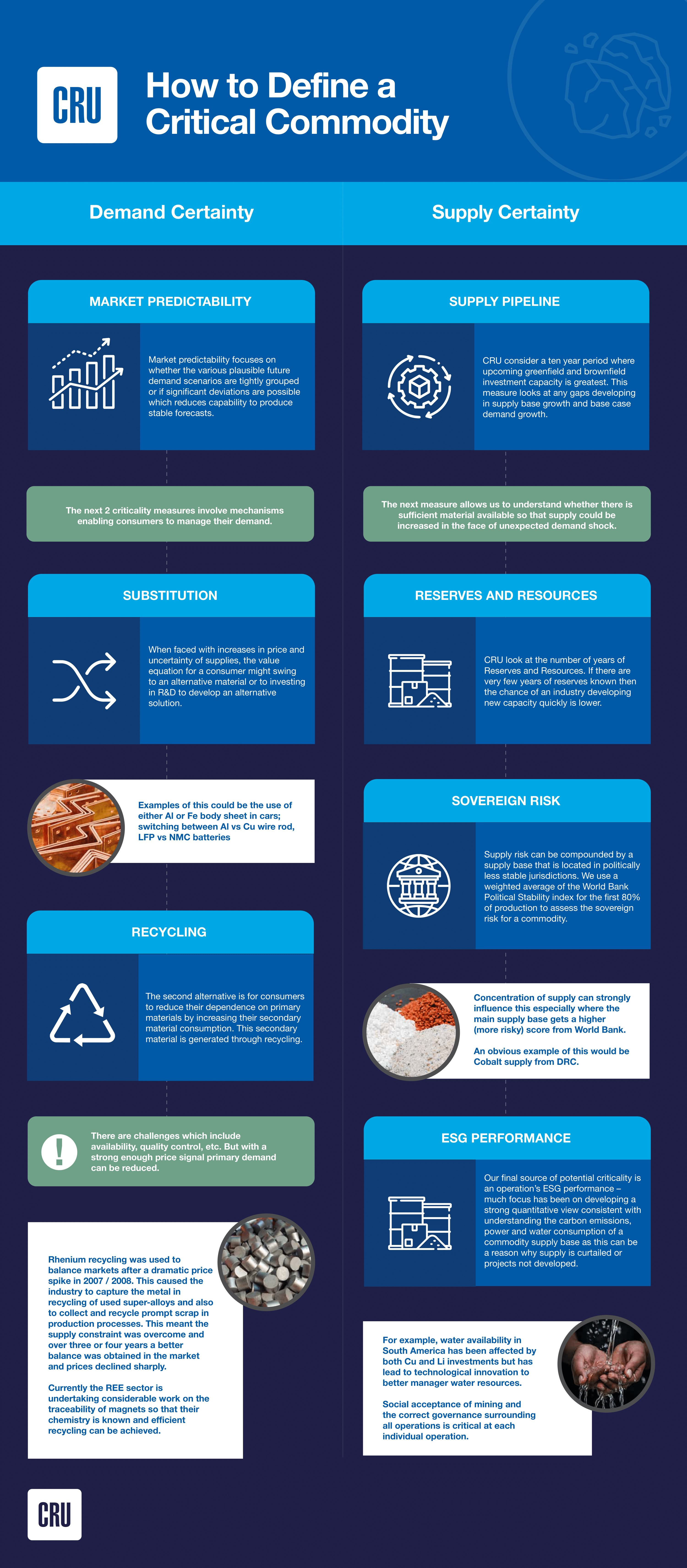 Reader View of the Infographic
This text version mirrored from the content presented in our infographic to provide you with smooth accessibility and effortless reading. Feel free to navigate this text version to comprehensively grasp the insights encapsulated in the original infographic.
Demand Certainty
Market Predictability
Market predictability focuses on whether the various plausible future demand scenarios are tightly grouped or if significant deviations are possible which reduces capability to produce stable forecasts.
The next 2 criticality measures involve mechanisms enabling consumers to manage their demand.
Substitution
When faced with increases in price and uncertainty of supplies, the value equation for a consumer might swing to an alternative material or to investing in R&D to develop an alternative solution.
Examples of this could be the use of either Al or Fe body sheet in cars; switching between Al vs Cu wire rod, LFP vs NMC batteries
Recycling
The second alternative is for consumers to reduce their dependence on primary materials by increasing their secondary material consumption. This secondary material is generated through recycling.
There are challenges which include availability, quality control, etc. But with a strong enough price signal primary demand can be reduced.
Demand Certainty Examples
Rhenium recycling was used to balance markets after a dramatic price spike in 2007 / 2008. This caused the industry to capture the metal in recycling of used super-alloys and also to collect and recycle prompt scrap in production processes. This meant the supply constraint was overcome and over three or four years a better balance was obtained in the market and prices declined sharply.
Currently the REE sector is undertaking considerable work on the traceability of magnets so that their chemistry is known and efficient recycling can be achieved.
Supply Certainty
Supply Pipeline
CRU consider a ten year period where upcoming greenfield and brownfield investment capacity is greatest. This measure looks at any gaps developing in supply base growth and base case demand growth.
The next measure allows us to understand whether there is sufficient material available so that supply could be increased in the face of unexpected demand shock. 
Reserves and Resources
CRU look at the number of years of Reserves and Resources. If there are very few years of reserves known then the chance of an industry developing new capacity quickly is lower.
Sovereign Risk
Supply risk can be compounded by a supply base that is located in politically less stable jurisdictions. We use a weighted average of the World Bank Political Stability index for the first 80% of production to assess the sovereign risk for a commodity.
Concentration of supply can strongly influence this especially where the main supply base gets a higher (more risky) score from World Bank
An obvious example of this would be Cobalt supply from DRC.
ESG Performance
Our final source of potential criticality is an operation's ESG performance – much focus has been on developing a strong quantitative view consistent with understanding the carbon emissions, power and water consumption of a commodity supply base as this can be a reason why supply is curtailed or projects not developed.
Supply Certainty Examples
For example, water availability in South America has been affected by both Cu and Li investments but has lead to technological innovation to better manager water resources.
Social acceptance of mining and the correct governance surrounding all operations is critical at each individual operation. 
Explore this topic with CRU