Since early 2021, pent-up demand for cars and supply chain issues (mainly chip-related) translated into soaring prices for used cars. OEMs were relatively bearish on restoring the supply chain side but viewed the end-use demand side in a quite bullish way, until now. With the war in Ukraine and the waves of lockdowns in China, supply chains have stretched further. Moreover, high inflation amid soaring food and energy prices is tightening the squeeze on households.  
Demand destruction has therefore become part of the picture. It is still too early to tell, but recent weakness in new car sales (for clients, see our May Automotive Sector Outlook for more details) and some cooling of used car prices (see Figure 1, below) clearly indicate a softening of demand.  
More specifically, used car prices in the US declined in March for the first time since September 2021 (-1.8% m/m) and continued their downward trajectory in April (-0.6% m/m). Similarly, UK used car prices fell for the second consecutive month in March (-0.4% m/m). German used car prices are still climbing but at a reduced speed (+3.5% m/m in March and 1.3% m/m in April). The phase when OEMs' only concerns lie on the supply side of the equation is over.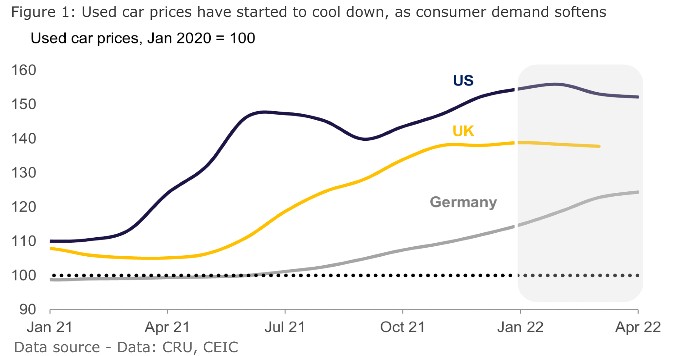 These and other developments that will determine the future path of OEMs and the impacts on commodity supply chains are discussed with CRU subscribers regularly. To enquire about CRU services or to discuss this topic in detail, get in touch with us.
CRU experts discussed the impact of the war in Ukraine on commodity markets in a recent webinar. Experts from all major commodity areas joined CRU's Head of Economics and an energy specialist to appraise markets on the invasion of Ukraine. The webinar is available to watch on-demand here.
Explore this topic with CRU