It is the mission of Steel Market Update to inform, educate, and motivate our readers on the ever changing steel market.
We have a responsibility to provide our subscribers with accurate and timely insights into the key market forces and trends affecting price and supply of steel and related commodities. We take pride in the value that we provide to our members and our reputation as a leader in flat rolled steel market news and analysis.
The Purpose of Steel Market Update has not changed from its inception:
To Inform - Steel Market Update provides real-time pricing, news and analysis of market trends affecting North American flat rolled steel, plate, scrap and related markets.
To Educate - Steel Market Update offers in-depth analysis of key indicators, as well as conferences and training programs, that give participants a greater understanding of the steel market.
To Motivate – Steel Market Update believes in helping to develop well educated, well informed decision makers who can make timely decisions to the benefit of their companies, their families and their industry.
Steel Market Update various platforms exist as places that can spark a dialogue or assist in the decision-making process as to what is truly important within the manufacturing and steel industries. We believe topics such as free and fair trade, quality, costs, pricing, competition, careers and ethics will bring a sense of community to the steel industry and will benefit everyone in the process.
Find out more about SMU
Find out about our Contributing Writers
Executive Fireside Chat
Acquiring Steel Market Update earlier in the year, CRU Executive Chairman, Robert Perlman, joined John Packard on stage during the SMU Steel Summit 2018 to discuss the relationship and synergies between each company's steel market analysis and services.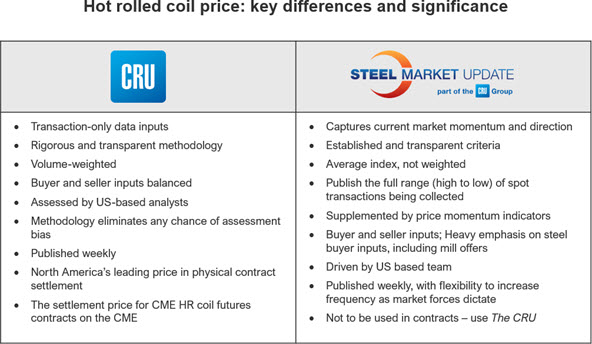 Steel prices coverage
As the relationship between CRU and SMU continues to evolve many have asked what will happen to existing products and services, namely the US Midwest hot rolled coil (HRC) price. Both CRU and SMU publish HRC prices weekly, therefore, it is critical to understand the significance of each price and key differences.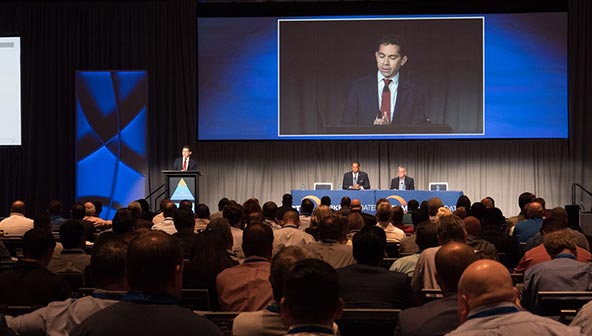 Steel services and events
SMU focuses on conveying trends, news, and important data to those directly involved in the flat rolled steel industry and related markets through its newsletters and enhanced subscriber website. SMU Premium and Executive Newsletters provide subscribers with exclusive access to steel and scrap price assessments and indices, service center spot pricing, buyers sentiment indices, and price momentum indicators alongside further proprietary data and analysis. 
SMU's Steel Summit is the largest flat rolled steel conference in North America and holds a reputation for outstanding networking and market insights. Beyond the conference, SMU provides steel industry training programs featuring industry experts. 
We provide more services...