Industry Leading Experts
CRU and RX collaborate to bring you the Innovation Plaza Sustainability and Recycling at ALUMINIUM 2022 in Düsseldorf
CRU is pleased to announce the partnership with RX - the organisers of ALUMINIUM 2022 where CRU will be hosting the Sustainability & Recycling Plaza in Hall 6, on 27-29 September in Düsseldorf.
Much has been said about the outstanding properties of aluminium regarding Circular Economy - but by no means everything. The Innovation Plaza Sustainability and Recycling is where the best experts on the subject will share their knowledge with visitors of the show.
The agenda over the three days, includes showcase presentations as well as panel discussions about:
Energy: sustaining business in a crisis
Green markets: EU ETS, CBAM and emissions
Circular economy - Recycling and beyond
Material, treatment, and design innovations in rolled and extruded products
Enhancing efficiency and sustainability through operational innovation in foundry, diecasting, and primary aluminium production
Carbon abatement technology - Pathways to net zero
Gender and inclusion
Raw materials
ALUMINIUM is the world's leading trade show and B2B platform for the aluminium industry and its main application industries. The show brings together producers, processors, end consumers and technology suppliers, along the entire value chain, and from more than 100 countries.
The partnership with CRU will give senior decision-makers from the commercial and technical space an opportunity to:
Meet in one place
See cutting edge world-class technical developments from leading exhibitors
Gain unique insights from the objective market perspectives of thought leaders in the commercial sector
To get your FREE ticket, simply click here to register using code ALU2022_cru or click here for more information.
Request Cru Information
Our Aluminium market analysis focuses on supply and demand fundamentals, price dynamics and forecasts for the entire value chain, including upstream and downstream markets. As well as a five-year view, we also provide a 25-year forecast for aluminium supply, demand and prices.
Our Aluminium Raw Materials analysis explores market fundamentals for production, consumption, trade and prices of alumina, bauxite and carbon products, with forecasts for five and 25 years. Thanks to CRU's multi-commodity and economic expertise, market insights are developed with a deep understanding of mining and metals interdependencies to give you a solid industry-wide view.
CRU's unique services are the product of both our in-depth understanding of the markets and close contact with our customers. We want to hear from you.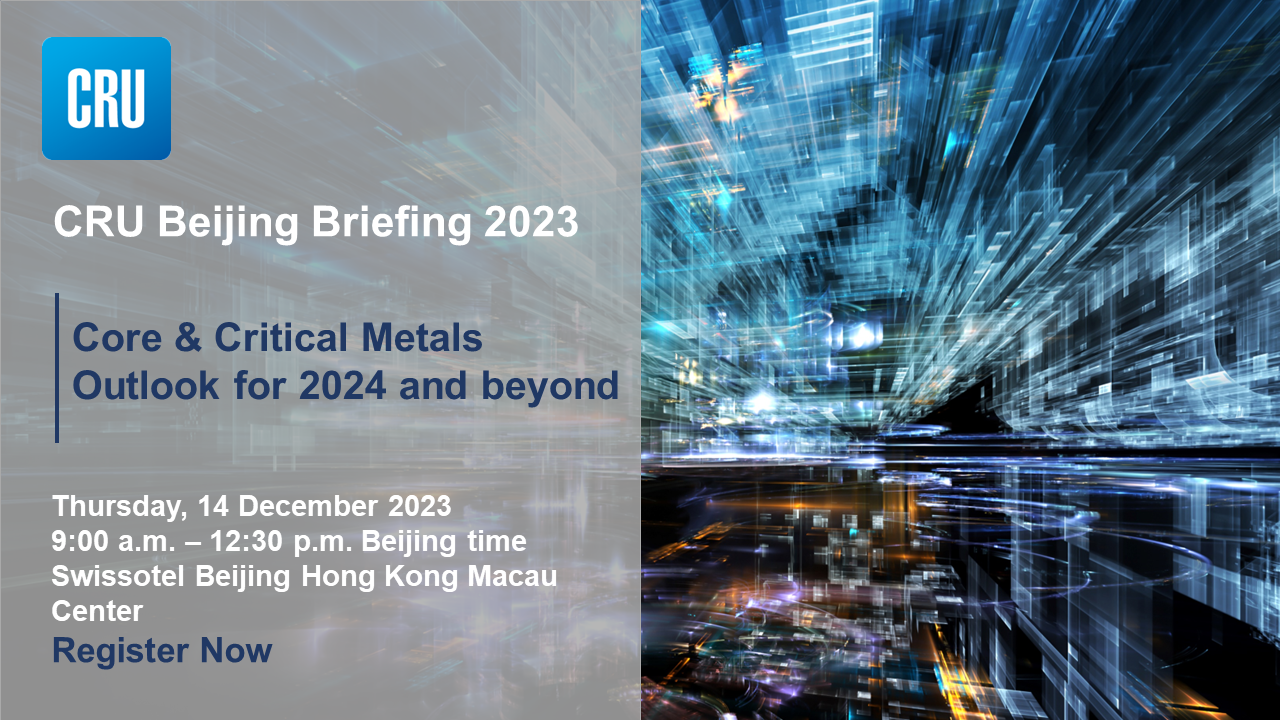 CRU Beijing Briefing - Dec 2023
CRU Beijing Briefing - Dec 2023 will be held on Thursday, 14 Dec 2023 in Beijing. Theme: Core & Critical Metals Outlook for 2024 and beyond Date: Thursday, 14 Dec 2023...
We provide more services...