Meet the CRU team at this strategic industry event in London.
The 28th World Aluminium Conference will take place on the 16-18 May 2023 at the St Pancras Renaissance Hotel, London, co-hosted by the International Aluminium Institute (IAI) and the Aluminium Stewardship Initiative (ASI).
The conference is firmly established in the aluminium industry calendar as a must attend event for those who work across the sector. 
CRU's World Aluminium Conference is timed, located and planned to maximise business opportunities, help you make better-informed decisions and connect you with the right people through excellent networking opportunities.  
Regularly attracting more than 300 senior decision-makers, representing 160+ companies from 36 countries, the event is a great opportunity to network. The event will once again be held in London due to the high concentration of executives involved directly and indirectly in the aluminium sectors that find the location convenient.
Book a meeting with CRU
Join the CRU team in London to discuss the key issues impacting the aluminium industry.
Join global editors of CRU's market leading publications as they discuss today's most important issues with: 
Meet the Team 
Harry Walford, Business Development Manager for Europe - appointed in January 2019, he is responsible for regional sales of CRU's Analysis and Consulting services and is based in the London office. Harry graduated from Oxford Brookes University with a degree in Business and Management.
Paul Williams, Head of Aluminium - joined CRU in 1986 and for many years ran the Aluminium semis and downstream teams, specialising in flat rolled product markets and demand analysis. A regular speaker at major aluminium events, he also contributes to aluminium association publications, including those of the Aluminium Association and the Gulf Aluminium Council.
Guillaume Osouf, Head of Aluminium Prices Development - joined CRU in July 2017 after 15 years working in the brokerage industry, the last 11 years with LME broker Triland Metals. He obtained a Master in Management from ESCP Europe in 2001 and is an STA qualified technical analyst since July 2016. His areas of specialism include LME, aluminium price forecasting, charting and production analysis.
Zaid Aljanabi, Principal Analyst - covers primary and secondary aluminium, value-added products, aluminium raw materials, and carbon products in North America and worldwide. Zaid holds an MA with honours in Economic Science from the University of Aberdeen and an MSc in Economics from the University of Amsterdam. Zaid is fluent in Arabic and French
Kelly Driscoll, Research Manager - has been with CRU in London since 1995, following a ten-year career as a process metallurgist working with Kaiser Aluminum in the US and with Johnson Matthey in London. He holds a BSc in Metallurgical Engineering from the University of Montana and a Ph.D. in Metallurgy from Cambridge University.
Simon Large, Analyst - focussing on global primary aluminium production. Prior to joining CRU, he worked as a researcher and consultant for base metal deposits at the London Centre of Ore Deposits and Exploration based at the Natural History Museum, London. Simon holds a Dr. Sc. ETH Zurich in Earth Sciences and is native in German.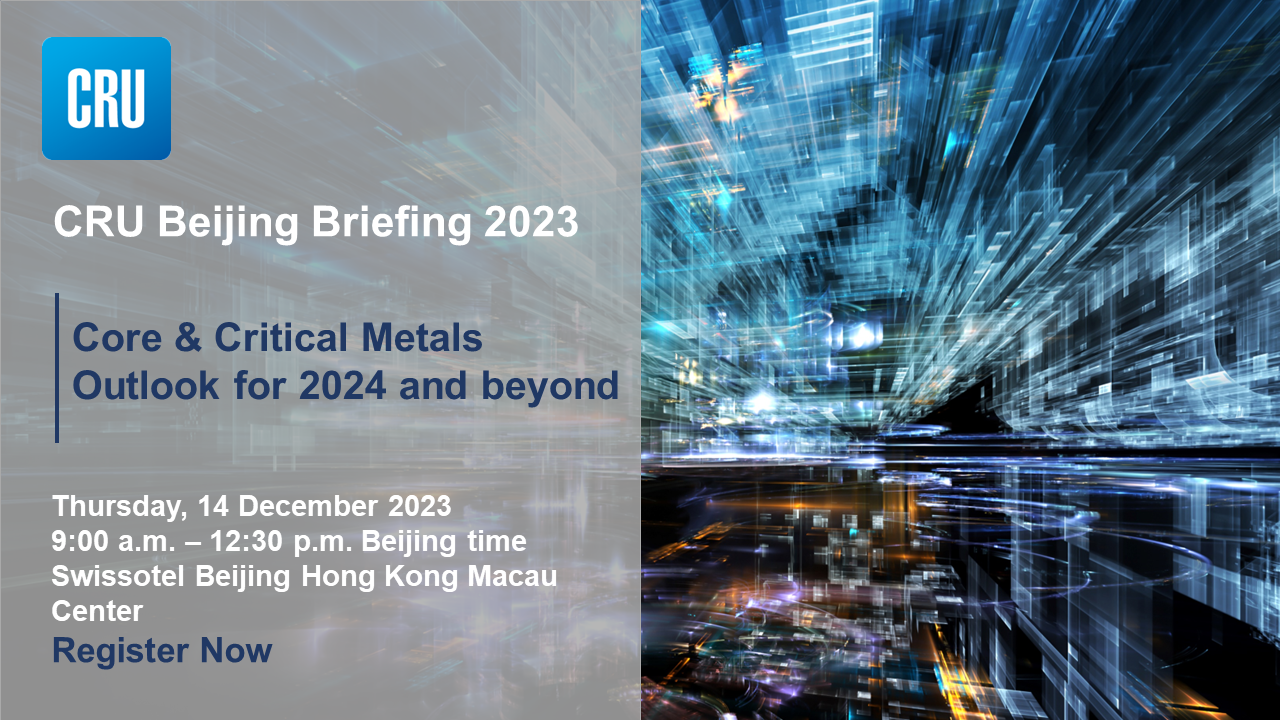 CRU Beijing Briefing - Dec 2023
CRU Beijing Briefing - Dec 2023 will be held on Thursday, 14 Dec 2023 in Beijing. Theme: Core & Critical Metals Outlook for 2024 and beyond Date: Thursday, 14 Dec 2023...
We provide more services...