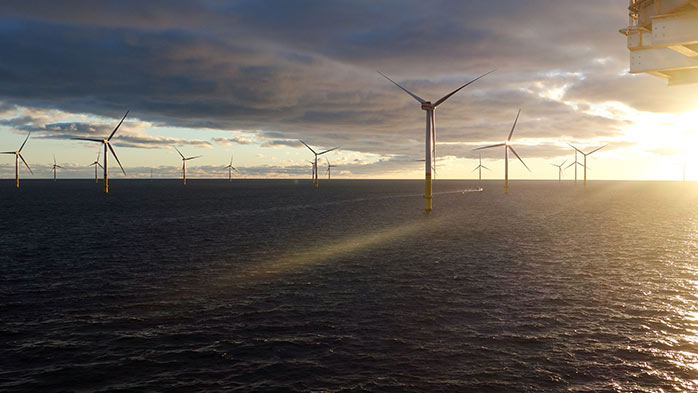 The IEA has released a report on the global offshore wind sector that predicts massive growth in installed capacity over the coming 20 years. 
The direction of travel is not surprising given prevailing geopolitical dynamics as well as the huge falls in the cost of electricity generated through this method. Offshore wind impacts several commodity areas covered by CRU and here we make some initial comment for some of those areas in response to this latest outlook.
Steel: strong demand growth area for heavy plate, but with longer term risks
The key steel product exposed to offshore wind is heavy plate. This is used in construction of the turbine towers, but especially in the foundations. Conversations with companies in the sector suggest that typical offshore projects consume plate at a magnitude of 100,000t or more. These are therefore substantial demand generators for plate mill output, given that the mean capacity of reversing plate mills in the EU28 is 400kt/yr.
The offshore wind sector has been focused on Northern Europe to date but is growing beyond that region. In Europe it now consumes a material proportion of total reversing mill plate; around 10% of total annual volumes for the region. Growth beyond Europe therefore has the potential to add significant new amounts to plate demand in other regions, while growth in Europe is likely to continue on its existing upward trajectory.
Plate demand growth arises not only from volume growth of installed offshore wind capacity, but also from changing intensity of use of plate in that capacity. As water depths increase the amount of steel required per foundation is also likely to increase, in the medium term at least. In a previous Insight, UK offshore wind sector will boost plate demand, CRU has explored the expectations placed on the UK plate supply base from its ambitions to grow offshore wind capacity. In simple terms it seems likely that additional domestic plate capacity could be justified to meet expected strong demand.
However, there is an offsetting risk to demand, which is that the intensity of use of plate may decrease, potentially stepwise at some stage. Offshore wind's growth is facilitated by rapid cost reductions in its installation. Efforts to continue this progress will remain, and steel is one of the major cost inputs. Solutions may be found to reduce the amount of steel needed per installation and in extreme cases this could mean a very different foundation model, such as floating rather than fixed installations.
Wire & cable: offshore wind is the main driver of sharp demand growth
The conclusion from the IEA's Offshore Wind Outlook is good news for the cable industry, and will have a positive effect on subsea HV and EHV export cables, MV and HV array cables that connect the turbines, as well as onshore HVAC cabling needed to connect the wind farms to the grid and cabling for the turbines themselves. Large offshore wind farms in Europe have also encouraged the need for HVDC interconnectors between countries, as these exchange electricity generated from renewable sources.
In CRU Wire & Cable News, a daily online and monthly PDF report, we closely monitor cable contracts and developments in offshore wind and various other renewables and industries. Our coverage recently has shown that positive policies like the UK's Contract for Difference (CfDs) Allocation Round 3 have allowed developers to move ahead with some of the world's largest windfarms, some rivalling the output of a nuclear facility. To find out more about this topic please view our webcast here (visible to subscribers only), which also details developments in China and the US. In the UK, which is the world's largest offshore wind producer, less than a quarter of the cables needed for major projects have been procured, so this presents a major opportunity for producers. Our October edition of CRU Wire & Cable News details how SSE Renewables is running a Meet the Buyers event for its Seagreen Offshore Windfarm Phase 1, which received a Contract for Difference (CfD) for 454MW. It has a total capacity of 1,075MW across its 'Alpha' and 'Bravo' projects and is expected to generate around 5,000GWh annually.
Offshore windfarm construction is the main contributor to the sharp rise in subsea cable demand. In 2018, offshore wind projects accounted for 7,900 core-km of new subsea cable, and this quantity will be 16,000 core-km in 2023 and accelerating into 2025, according to CRU's HV & EHV Cable report which is published every two years. According to the report, with growth rates of 5% to 7% per year, HV and EHV cables are among the fast movers in the power cable industry. The increase in wind turbines to reduce offshore windfarm costs has also led to a change in the voltage of inner array cabling from 33kV to 66kV. Further technological advances in offshore wind to reduce costs further as well as the commercialisation of floating wind will no doubt lead to innovations in cable design.
Thermal coal: rumours of my death have been exaggerated
Globally, renewables are expected to account for 8% of total electricity generation in 2019 and that share will rise to 23% by 2040.
In the EU, renewables share in electricity generation is already 17% and by 2040 it will increase to 28% with the help of the government policies that have been supporting the installation of new solar and wind farms, as well as due to the significant increase in CO2 costs that have increased almost six-fold over the past two years. In China, the share of renewables is also expected to grow strongly over the same period from 9% to 29% as the country tries to reduce its emissions.
Nevertheless, despite such a strong growth in the renewables, CRU does not expect a substantial decrease in power generation from coal on a global scale. That is because global power generation will increase by 45% from 2019 to 2040 and renewables and other sources of electricity generation will not be able to replace coal in the developing economies, particularly in India and South East Asian countries. Consequently, while the share of coal in global electricity generation will continue falling from 37% in 2019 to 24% in 2040, electricity generation from coal in TWh would decrease by only 5% in the same period.
Explore this topic with CRU