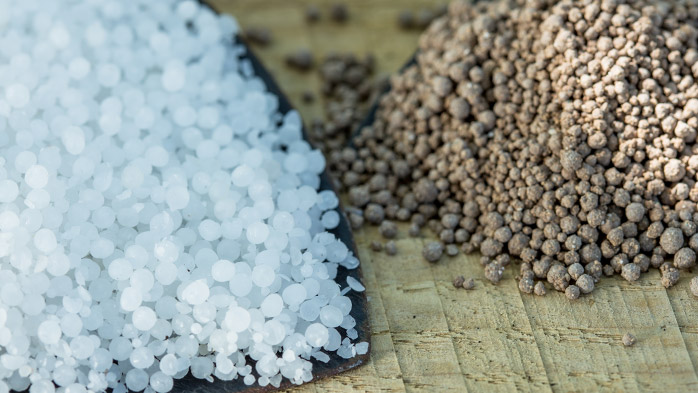 OCP and PhosAgro are two of the preeminent global phosphate producers, with varying strategies. 
OCP has been targeting more market share across raw and finished phosphate products across the world, with ambitious plans for growth in Africa. PhosAgro has also expanded its global footprint over time. But strong domestic demand growth and a more conservative capacity expansion program mean its sales strategy is focused closer to home. However, some intriguing trade flows have developed in 2020, with PhosAgro nudging into OCP's establish West African market, and OCP increasing its sales into Europe. This Insight elaborates further on these strategies and considers whether these changing trade flows will become more established over the long term.
PhosAgro gains in West Africa in 2020 Q1…
PhosAgro is a low-cost and diverse phosphate producer. Its medium-term strategy focuses on increasing sales in the Russian and European markets, outlined at its 2019 Capital Markets Day in London. PhosAgro produces fertilizer at Balakovo, Metachem (Volkov), and Cherepovets, which are set to receive varying levels of investment over the coming years to increase capacity. The company plans to strategically re-organise its production assets to better match sales geography, mainly geared towards 'close to home' markets.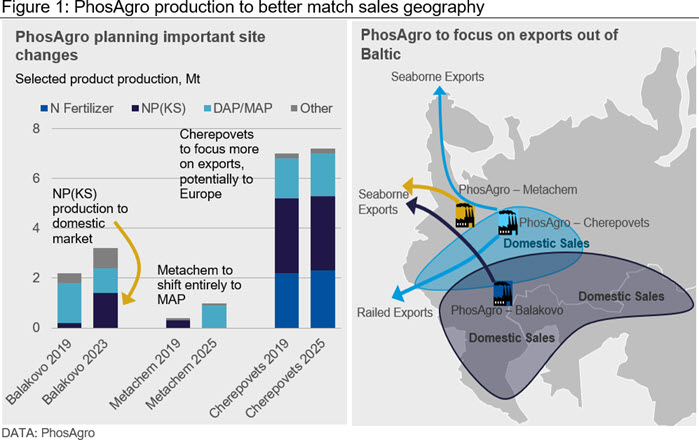 Despite this, it has also been pushing into other regions such as the West African NPK market, dominated by OCP in recent years.
This has been very evident so far in 2020. Total NPK (excludes NP and PK) exports to major West African countries of Benin, Ivory Coast, Ghana, Togo, and Nigeria rose by 50% y/y according to available 2020 Q1 trade data. Much of this increase is from the company winning a major Benin NPK tender. For the same reason, OCP's traded market share in the region declined from a dominant 94% in 2019 Q1, to just 26% in 2020 Q1. This is surprising given OCP's more competitive freight costs into West Africa, its recent dominance in the region's NPK sales, and the company's focus on African sales.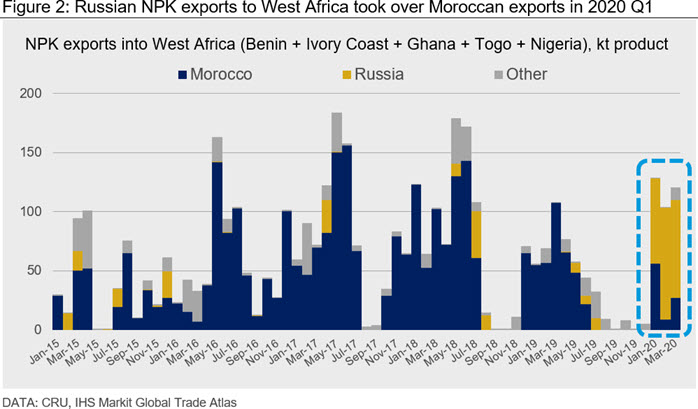 Russian NPK 15-15-15 production costs are the lowest in the world as shown in the NPK cost curves from our NPK Market Outlook. PhosAgro's costs are significantly lower than even OCP's NPK production costs, allowing it to compete in OCP's 'backyard' of West Africa.
PhosAgro has no prominent Africa strategy. The company's strategy to 2025, outlined in its Capital Markets Day presentation, is focused more on the larger markets: China, India, Russia, Europe, Brazil, and North America.
OCP in contrast has an identifiable and prominent Africa strategy comprising sales into West Africa and Ethiopia, cooperation with African governments, farmer education, and agreements to build local production or blending units. While a major proportion of West Africa NPK sales may have been ceded to PhosAgro, this may be temporary.
OCP has reported an increase in NPK sales into West Africa in Q2, while DAP sales have also increased, likely for blending, substituting for a portion of NPK sales. It is unclear whether OCP production cuts and strong Atlantic swells in late 2019 and early 2020, together with more production resources required for Ethiopian NPS production, have played a role in these changing trade dynamics.
…while OCP made modest gains into Europe
While PhosAgro has sold more NPK into West Africa in Q1, OCP has increased NPK sales into Europe, a major market for PhosAgro. OCP has modestly increased NPK sales y/y in 2020 Q1 into Germany, France, Spain, Poland, and Ukraine (due primarily to Ukrainian sanctions against Russian companies). It is unclear how much of these exports directly displaced PhosAgro product. PhosAgro volumes still dwarf those from OCP, but it is clear OCP is attempting to win some more market share in the continent.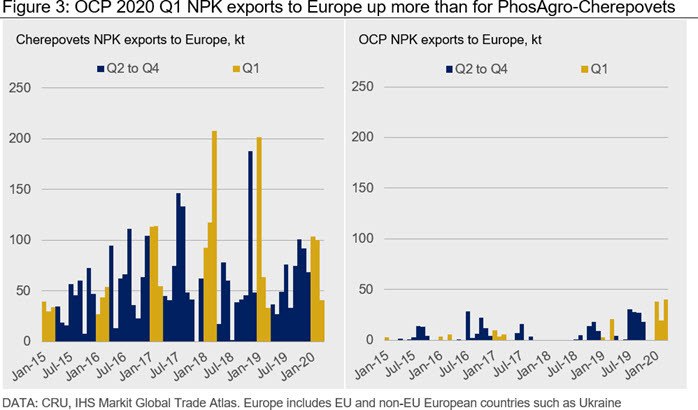 Did PhosAgro suffer from Murmansk bridge collapse?
PhosAgro exports its phosphate rock and some phosphate fertilizer from Murmansk port, where a rail bridge recently collapsed. This bridge collapse severed the link between the port and all rail infrastructure, meaning a short-term cessation of exports. However, Russian authorities report a temporary bypass has now been established.
Multiple ships were redirected from Murmansk port during June due to the collapse, with PhosAgro, EuroChem and Acron all redirecting product as a result during the period. It is unclear when phosphate rock and fertilizers are set to restart transport on the detour route to Murmansk.
The disruption caused by the bridge collapse is likely to have been minimal. It is unlikely to have opened many significant opportunities for PhosAgro's non-Russian based competitors to capitalise on and win additional market share.
Let the competition continue
Competition between OCP and PhosAgro is not new, but it is clearly intensifying in the NPK markets. Buyers in both Europe and Africa will benefit from the vast portfolio of products offered by both companies, along with other key market players such as Yara. If PhosAgro and OCP NPK gains into West Africa and Europe become permanent, their strategies may shift to preserve and grow these recent gains. Analysis of these evolving competitive trade dynamics is going to be increasingly important for the fertilizer market going forward. This and other market changes are captured in detail in the CRU NPK market outlook service.
CRU publishes developments in the NPK, NP, and PK markets in a monthly service included with a subscription to the CRU NPK Market Outlook. This Insight is a sample to readers interested in these markets. The CRU NPK Market Outlook is an annual publication analysing the compound NPK, NP, and PK markets. The current edition of the Market Outlook was published in December 2019 with 136 pages of analysis and over 200 charts. A plant-by-plant capacity database covering the 2000-2024 period, together with production, demand, export, and import forecasts, are included. New additions to the service include NPK production cost curves and a comprehensive NPK grade database with more than 4,000 entries.
Explore this topic with CRU