The EUA price will increase from the current ~€84 /tCO₂ to €85–90 /tCO₂ over the next four weeks. 
A consensus is forming in the European Parliament (EP) on climate proposals and gas-to-coal shifting in power generation will see renewed momentum due to the release of idled coal capacity. Both will support the EUA price in the coming month. Falling industrial activity will put an increasing drag on EUA demand that will be important further out. 
ETS proposal vote to support EUA price 
Surging energy prices have negatively impacted industrial activity, with similar knock-on effects for power demand. As a result, conservative members of the European Parliament (MEPs) have so far resisted more ambitious climate targets that they see as further pain for industry. Our forecast assumed greater consensus and this was apparent in the vote on 22 June, which will provide support to the EUA price.
EUA demand supported by higher reliance on coal power
Soaring gas prices following Russia's recent supply cut have lifted gas-power costs and will drive further gas-to-coal shifting. A subsequent announcement by Germany to bring back 10 GW of idle coal-fired power plants is a direct response that will add more momentum to the gas-to-coal switching. This will lift EUA demand by at least ~2% in the immediate term. 
Overall, we expect EUA demand across the power generating sector to lift in the coming month. 
Steel production hit hard as industrial EUA demand falls
Reduced activity in the manufacturing and construction sectors has weakened steel demand and we now forecast European steel spot margins will fall to ~4% by the end of the year (n.b. steel accounts for ~10% of EU ETS emissions). At the current carbon price, this suggests European steel production could fall to ~19 Mt/q, ~10% below the current level, and more than 20% below historical levels.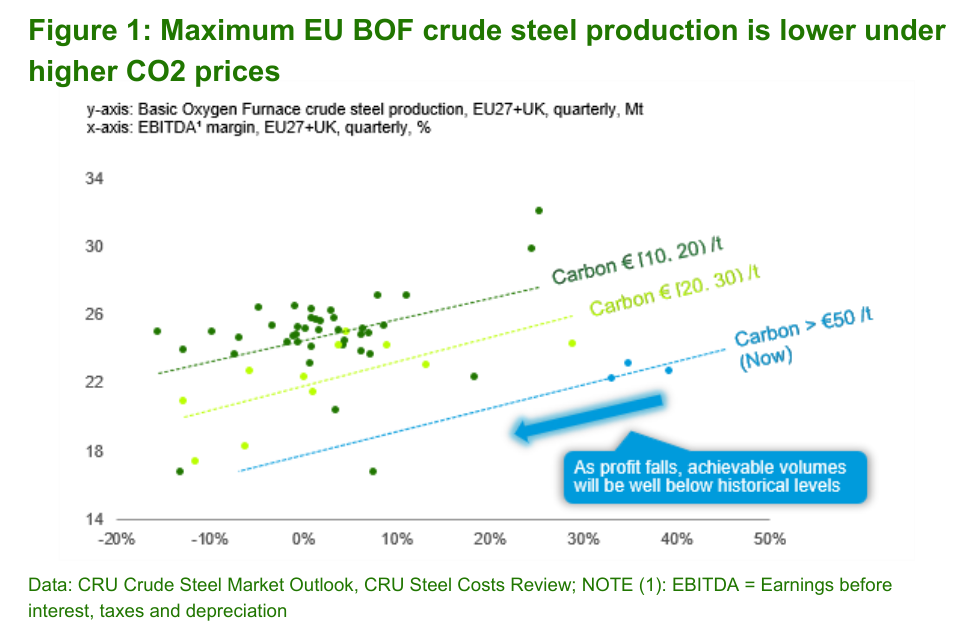 This reduction in output implies a ~1% drop of EUA demand – through to the end of the year – but, more importantly, suggests some mill output could ultimately be at risk. This outlook will have a negative impact on EUA price expectations in the next month.
Find out more about our sustainability services : our reputation as an independent and impartial authority means you can rely on our data and insights to answer your big sustainability questions.
Explore this topic with CRU