CRU has evolved and expanded to deliver global market intelligence over the past five decades, while The CRU has duly experienced evolution and global growth.
50 years of independent commodity research
Having started out in 1969 as a copper research specialist, CRU branched out in 1980 into steel, and continued to grow into a global leader in pricing, mining, metal and fertilizer commodity research and analysis. CRU remains an independent company employing roughly 300 people worldwide with over 30 based in North America. Learn more about our company history.
Point of distinction in pricing
CRU has been built on strict methodologies using first-hand data and information to deliver reliable market-leading price assessment, analysis, forecasts, costs services and global industry events. To that extent, CRU is both a price-reporting agency (PRA) and a research and analysis company.
Our market and price analysis work are largely informed by proprietary models and models developed in-house – an approach distinguished from any other PRA. CRU price assessments are supported by our deep understanding of commodity and market analysis fundamentals, broader market intelligence and complete supply chain operations.
Proud history serving the North American market
CRU has a long-established and proud history of serving the market with its US Midwest HRC price, The CRU. With an established North American presence since 1996, our first US Midwest price assessment was in January 1980 - $326 /s.ton.
The CRU is used in the settlement of CME's US Midwest Domestic Hot-Rolled Coil Steel (CRU) futures contract and was the first index to have its data providers and methodology audited by a third party. Enabling users to effectively hedge against volatility and risk, CRU-settled contracts reached near record levels in 2019 after substantial growth throughout 2018. The CRU is now referenced much further afield in Mexico, Asia and other markets seeking to export to North America.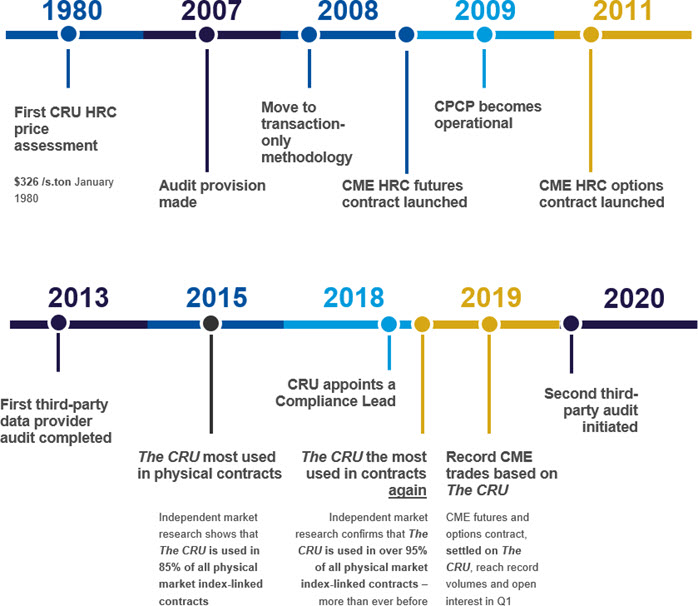 Gain better insights and drive results by working with a team consistently committed to quality and reliability.
Speak to our team