Our client, a leading International Financial Institution, was implementing a major new programme aimed at providing resource-rich client countries with strengthened policy advice and access to lending facilities designed to support the development of their domestic natural resource sectors.
Mineral commodity prices fluctuate widely. This is an important problem for many Latin American countries because mineral exports take a large share of exports, are a critical component of the tax base, and also an important source of investment and employment.
The primary goal of this project was to help policy makers in Latin American mining region to understand the extent of macroeconomic and fiscal risks from commodity price fluctuations (at both the national, and importantly, sub national level).
In this context, CRU were engaged to help understand the following issues and questions:
How uncertain are prices across a range of key commodities?
What would be the impacts of market volatility on key economic indicators, including: mining sector output, earning and free cashflows, investment, employment and fiscal revenues?
How are these risks impacted by policy, market structure and particular resource endowments?
Source: CRU
Methodology
CRU developed a sophisticated methodology to analyse medium term price uncertainty across a basket of 11 key economically relevant commodities, for 12 sub national regions in Latin America. We analysed a history of "forecast errors" using long term price series data. This was then used to calibrate market shocks which were representative of the risks that individual countries and regions are exposed to.
We then utilised our proprietary asset-level production cost data to develop an "bottom up" founded view regarding the impacts of these price shocks on national and local level economies. Employing CRU's "Project Gateway methodology" (summarised below), we were able to provide an informed view on the potential sensitivity of investment and production decisions to lower commodity prices.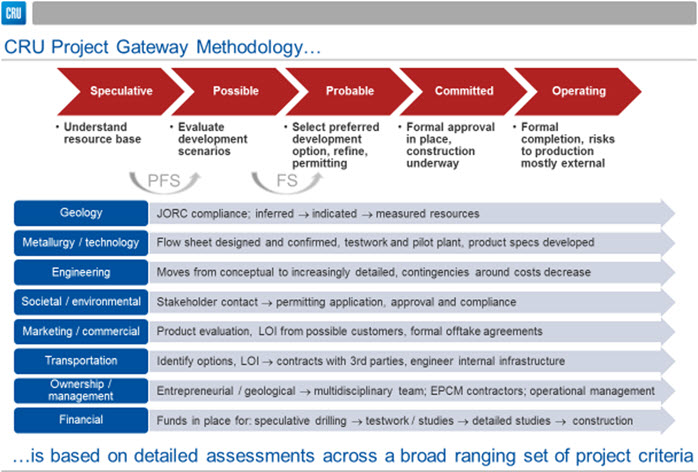 Source: CRU
Outcomes and recommendations
CRU's analysis has been used to inform a wide range of governmental and private sector stakeholders regarding key macroeconomic and fiscal risks in the Latin American region relating to the mining industry. A sample of our work was published in the Latin America and Caribbean Macro Report 2017.
We highlighted, for example, significant risks of overall industry losses through fiscal revenues in a commodity price downturn in key mining regions such as Brazil (Para & Minas Gerais), Northern Chile and Southern Peru.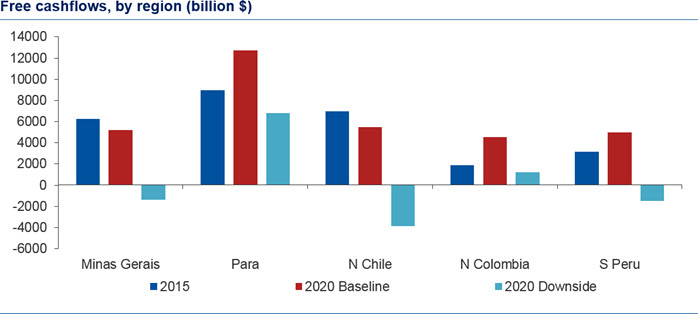 Source: CRU
We also emphasised the susceptibility of sector investment to changes in market conditions. Under the downside price scenario, for example, we find that development capital could fall by over 75% compared to the baseline.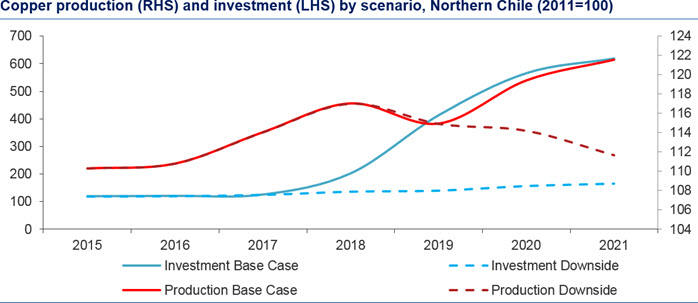 Source: CRU
Explore this case study with CRU