Our client was interested in the fibre-optic cable market. The focus of the report was on fibre optic cable markets around the world with additional primary research into water blocking technologies used in fibre optic cables in key regions of the world.
Our Recommendation
CRU was able to provide independent data on an industry that is relatively opaque by using our expert knowledge and contacts in this industry. This allowed CRU to identify the differences in current practice around the world and to identify trends in cable technology.
Methodology
This project was executed through a combination of desktop and primary research. Team members in London, Beijing, and Pittsburgh were able to conduct desktop research and primary research in the key markets to bring unique understanding of the water-blocking needs and technologies in use. In the first section of the report CRU was able to provide independent data on the markets for fibre-optic cables for dozens of markets around the world with forecasts through the medium term for all markets and through 2030 for major markets. A key feature of fibre optic cable markets is the local distribution of fibre optic cable to homes known as fibre to the "x" (FTTx), and this was given an additional special feature in the report.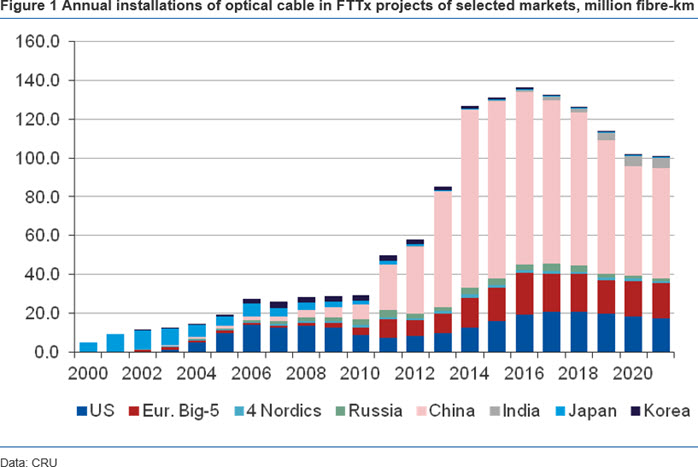 In the second part of the report market intelligence gained from primary research allowed CRU to present market shares each type of cable for Europe, China, and North America through the medium term.
The report also included a description of CRU's methods for collecting and analyzing industry production data. It is not easy to collect and to make consistent comparisons in this market, therefore we conducted personal interviews and used CRU's expert industry judgement as well as public information.
Outcome
The client was pleased with the findings of the study as much of their understanding of the market was validated. However, there was new information about these markets that was not expected by the client which helped to guide their business strategy.
Explore this case study with CRU