Complex supply developments in South East Asia meant that a third party view of potential new nickel sulphate supply and its costs was essential.
Our client's strategy development process depended on understanding both the competitiveness of their existing business and their potential investment in hydrometallurgical capacity in the context of a rapidly evolving market. The combination of new demand from electric vehicles and new production routes to nickel sulphate required primary research and development of an appraisal methodology for existing and proposed nickel plants in Philippines and Indonesia.
To support the client's aim, CRU prepared an extensive survey of potential hydrometallurgical and pyrometallurgical projects in Indonesia and the Philippines. This survey relied on the outputs of a nickel cost and margin model developed specifically for this assignment, one of the key deliverables for the client.
On the demand side, CRU provided a robust appraisal of the potential for rapid growth of supply to the battery-grade nickel sulphate market within the context of the electric vehicle revolution, as well as demand for nickel in different forms in the significantly larger, but less dynamic, stainless steel sector.
Methodology
In preparation of both the project appraisal and the cost model, CRU Consulting relied on a combination of in-house data, analysis and experts, and targeted primary research which included a series of meetings and site visits in Indonesia and Philippines. The key success factors for this assignment were CRU's presence in China, the main end-user and processor of nickel sulphate, and a network of industry contacts in South East Asia, the main location for nickel upstream investment at the moment.
CRU also engaged an independent technical expert in the nickel sector to assist with gaining a detailed understanding of the capital and operating costs of producing battery grade nickel sulphate through various existing and possible processing routes.
The aim of the cost model was to provide accurate cost and margin estimates for a range of both actual and 'representative' operations and announced projects spanning the entire nickel value chain, in a way that captures and differentiates between:
scale (e.g. of mining operation, smelting, refining, etc.)
metallurgical considerations (e.g. impact of different chemistries, in different processes, on product specifications, and consequently product value); and
location (e.g. smelting in China or Indonesia)
The modelled value chains covered 9 separate key nickel sulphate processing routes – both existing and potential – and included 40 operations in total. These are schematically shown in the chart below.
Nickel value chain (simplified)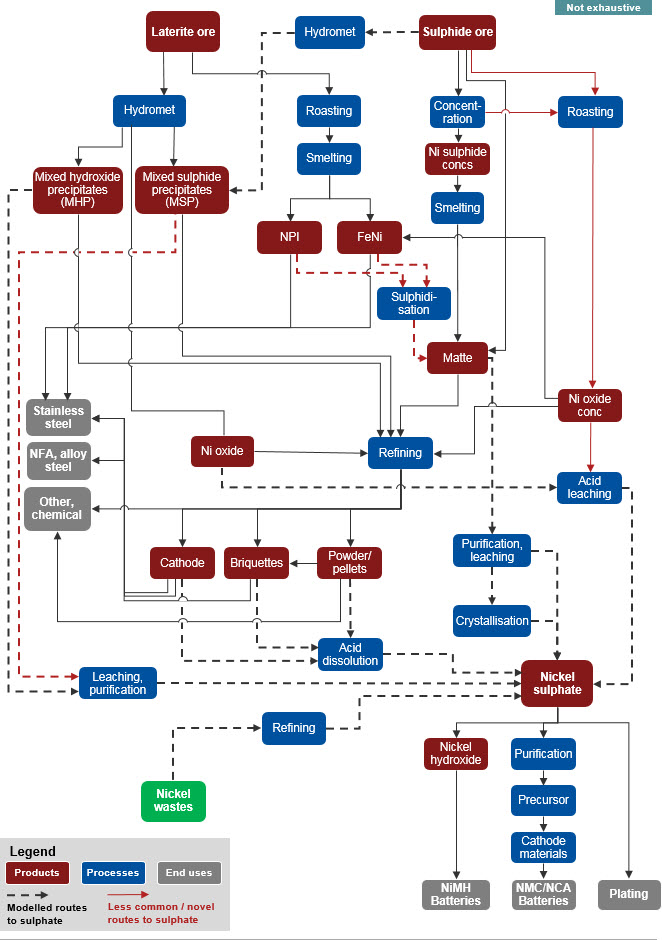 Data: CRU
The model was designed to allow the user to evaluate the impact of changing key input assumptions (such as grades, strip ratios, recoveries, acid consumption etc.) and the base year (i.e. current year or over a forecast period) on costs and margins across the industry and generate cost curves.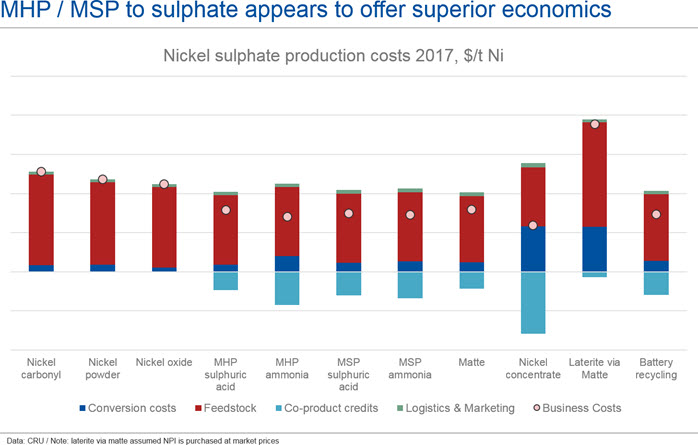 Outcomes
CRU's primary research and cost model enabled the client to test the economics and viability of a wide range of routes to produce Class I nickel units and nickel sulphate. The robust quantitative and qualitative data delivered allowed the client to much more critically appraise the nickel projects pipeline in Indonesia and Philippines, answering the following questions:
How likely are these projects to proceed to construction and production?
Does the timeline as announced by those projects appear realistic?
Do the capital cost estimates as announced by those projects appear realistic?
This helped the Client to assess the likely implications of nickel supply developments for its business and competitive position in the South East Asia region.
CRU has continued this research with further client assignments focused on:
What is the likely future premium for nickel sulphate?
Is there an upcoming supply gap for nickel sulphate?
Impact of the cobalt price on the rate of uptake of high nickel batteries.