Our client, an international metals producer, wanted to identify and prioritise possible M&A targets as part of the execution of its growth strategy.
Our client sought CRU Consulting's assistance to ensure a structured, evidence-based process, access to a larger pool of potential targets, and an independent view on target prioritization, as well as support with preparing recommendations to board level decision markets.
Introduction
M&A transactions are an important growth channel, but value accretive targets are often challenging to identify and execute upon. As part of efforts to execute our clients growth ambitions in key European markets and high value product segments, while leveraging the organisation's core competitive advantages, CRU Consulting provided strategic and technical guidance on potential M&A targets. We undertook a structured and evidence-based approach to the identification and prioritisation of acquisition targets, which helped focus management time and attention on the most prospective opportunities.
Our recommendation
CRU Consulting, working in close cooperation with management and in house market, technical and execution specialists, successfully identified the 5 most prospective target. We provided evidence and guidance on the basis for our recommendations as a key enabler of board level decision making. Rank the top 5 most attractive mills based on strategic fit for the client and develop recommendations for the Board.
Our methodology
Drawing on CRU's in house asset level databases, we first prepare a long list of potential target plants. We subsequently executed on a step-wise prioritisation process in which we first prepared an interim list for deeper analysis, based on key screening filters. We subsequently developed and evaluated to score key aspects of asset attractiveness in a way which tailored to the goals and comparative advantages of our client to identify and rank the top 5 most attractive targets in terms of market conditions, firm/ asset competitiveness. We subsequently analysed the implications of these structural changes for our client's existing goals, portfolio as well as technical capabilities and sources of comparative advantage.
Data: CRU
Our results
The recommendations were accepted by the Board and, at time of writing, the M&A execution phase has begun, including undertaking of preliminary financial due diligence, and the mobilization of required transaction support services. CRU Consulting looks forward to offering further bankable advisory support as deal execution progresses.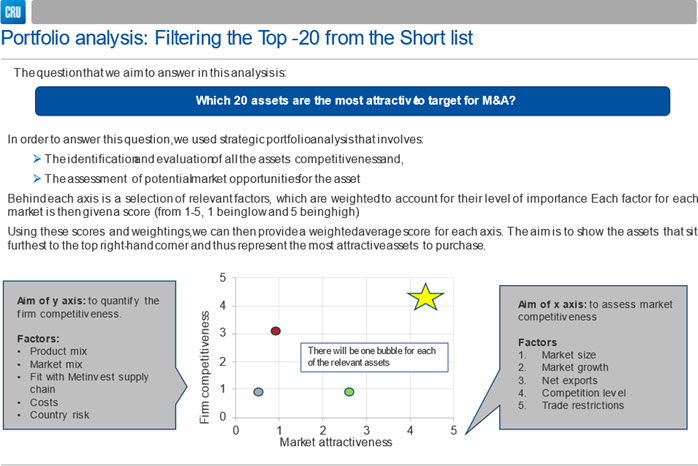 Data: CRU