CRU's expertise applied for mining tech suppliers: Total addressable markets
At CRU, we know that data is the core of our business, but we also understand that different clients have different needs. As we are facing a transition towards sustainability, and mining companies are embracing the technological shift needed to meet this goal, new market participants – and particularly technology companies – need to understand the size of the market for the solutions they are creating. This will ultimately enable them to develop robust strategies for their businesses. This is by no means a straightforward task since identifying key metrics is not only a matter of having access to data, but it also requires a deep understanding of the mining industry.
Here, we provide two cases on which CRU Consulting provided a total addressable market (TAM) assessment, through our in-house market knowledge, data, and consulting services.
Case 1: From low-grade mine waste to copper cathodes
Our client is an emerging mining technology company who provides a new leaching technology capable of recovering copper from low-grade primary sulphides ore which, in simple terms, is further referred to as copper mine waste containing over 0.1% Cu.
The client engaged CRU Consulting to understand the total size of the market they could potentially be able to reach with their technology (or their TAM), forecasted to 2050. For this, the CRU Consulting team developed a methodology based on our proprietary Copper Cost Model, existing databases, and primary research to build a model to determinate the tonnage-grade distribution of the waste mined material on a mine-by-mine basis.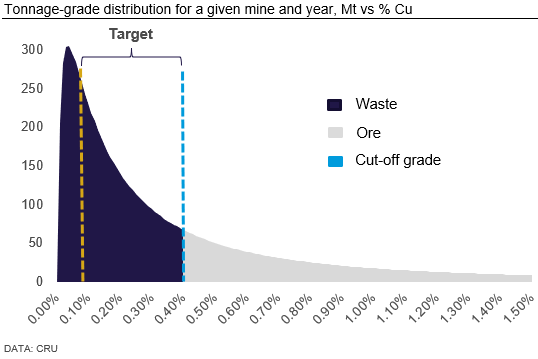 The model was further tested against real mine data and key assumptions were discussed with the client's technical team. From this, the TAM was calculated for the 2010-2050 period, taking into account the existing operations and different categories of potential future open-pit projects with concentrator plants. The results were used by the client for marketing purposes with investors, and as part of their business development strategy.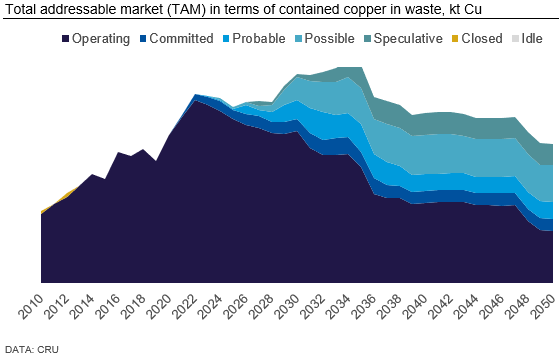 While these results are evidently relevant for our client, they also reflect a sizeable opportunity for the copper industry which is forecast to experience a 7.6 Mt supply gap of primary copper by 2035. The work done by CRU Consulting shows a substantial part of this supply gap could potentially be filled with valuable metal that is currently being discarded as mine waste.
Case 2: Capturing value from high-arsenic copper concentrates
The client developed a new process that recovers copper from high-arsenic copper concentrates, encapsulating arsenic and making it safe to dispose at the same time. This last part is of special relevance, as arsenic is a toxic element that can be particularly detrimental to human health. As such restrictions are imposed over smelters globally which narrows the marketing opportunities and the economics of miners producing high-arsenic concentrates. 
The client was looking to develop their business strategy, which requires to identify target mines to deploy its technology, meaning high-arsenic copper concentrates mines and projects, and the size of their potential TAM.
Leveraging CRU's expertise in the copper industry and data, we estimated the client's market size in terms of the NPV a mining company could generate by switching from their existing processing and commercialising route to the client's new technology.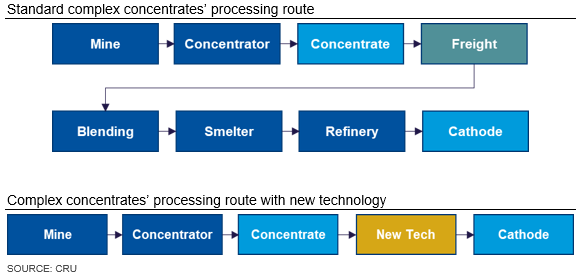 This NPV is calculated considering the value of the concentrate due to the presence of valuable metals (copper and precious metals) and subtracting the different penalties due to impurities (such as arsenic and others), other discounts and tariffs, and logistic costs. Cathodes premiums were also evaluated.
Using our copper, gold and silver price forecasts, TC/RCs forecast, in-house knowledge about penalties and payabilities and some primary research, we were able to build a tool to calculate this new NPV for a given producer. This tool was then applied for every single mine and project that produces or will produce high-arsenic copper concentrates and allowed us to calculate our client's TAM, which is shown below in terms of potential revenues.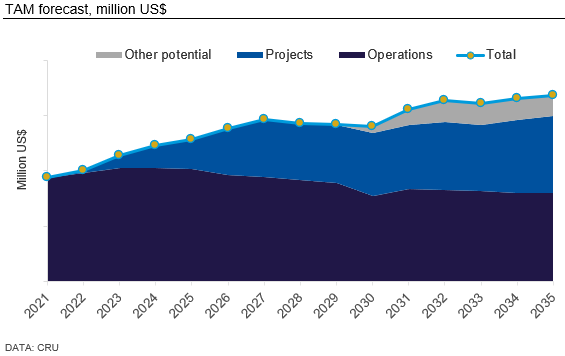 How CRU can meet your business needs
Total addressable market (TAM) calculations are predominantly useful for emerging mining technology suppliers, looking to raise capital, evaluate a business opportunity, define strategies and/or explore new markets.
This type of analysis and modelling requires a deep understanding of the specific commodity market of interest and the mining sector. 
The CRU Consulting team has the capability of performing these types of forecast thanks to its extensive team of experts and culture of collaboration across commodities. This, backed by the vast knowledge, insights, and data provided by the analysis team.
If you are looking for new clients, figuring out your strategy, or simply understanding your market within the mining industry, let us get in touch and apply CRU's expertise to grow your business.
Explore this case study with CRU