CRU Consulting recently carried out a piece of work on China's steel scrap market for a leading iron ore producer who is also a major supplier to Chinese steel mills. Our expertise helped the producer rapidly deepen its understanding of China's ferrous scrap value chain.
Why our client initiated this study with CRU Consulting
As a leading iron ore producer globally, our client's fortunes are closely linked to the prospects for China's scrap market. The goal of the project was for CRU Consulting to provide an independent assessment of how the development of China's scrap industry would affect the client's export business to China over the following five years, supported by research and quantitative analysis.
Key questions we looked at
Based on CRU's existing knowledge, our modelling of scrap supply and demand, and our market research program involving scrap collectors and processors, government entities, associations and steel mills,
CRU examined the following topics:
What are the key drivers and future growth outlook for scrap supply and demand in China?
As obsolete scrap increasingly dominates the supply of scrap in China in the future, how will the cost of obsolete scrap evolve over time, and how will this affect the overall supply picture?
How will scrap supply develop at a provincial/regional level?
What are the key bottlenecks that restrict the supply of scrap in China and how can these be addressed?
How will scrap prices evolve over the next five years?
How much of the available scrap can be recovered and at what price?
How CRU Consulting helped our client address these issues
Based upon a wealth of research, we built a model to forecast Chinese scrap arisings (supply) from different origins over the following five years. Our modelling showed that scrap recovery rates are already relatively high but can still support an increase in EAF output. Most of this growth will come from obsolete scrap, where buildings, transport and machinery will contribute to increased obsolete scrap arisings.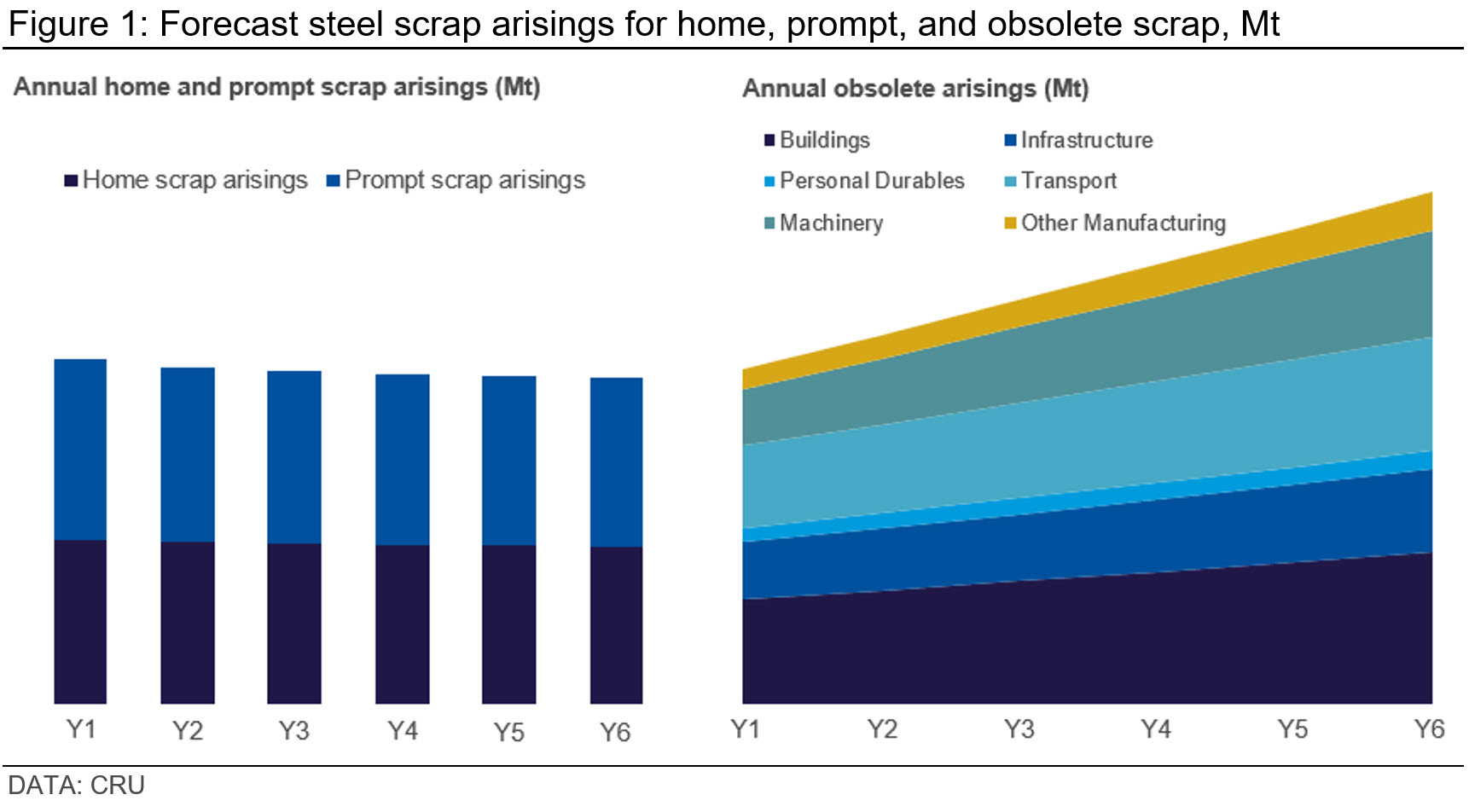 At the regional level, there is a significant overlap between provinces with the largest scrap supply and demand, while any deficits can be met economically from neighbouring provinces by train/truck, or in the case of coastal provinces, via sea transport as well.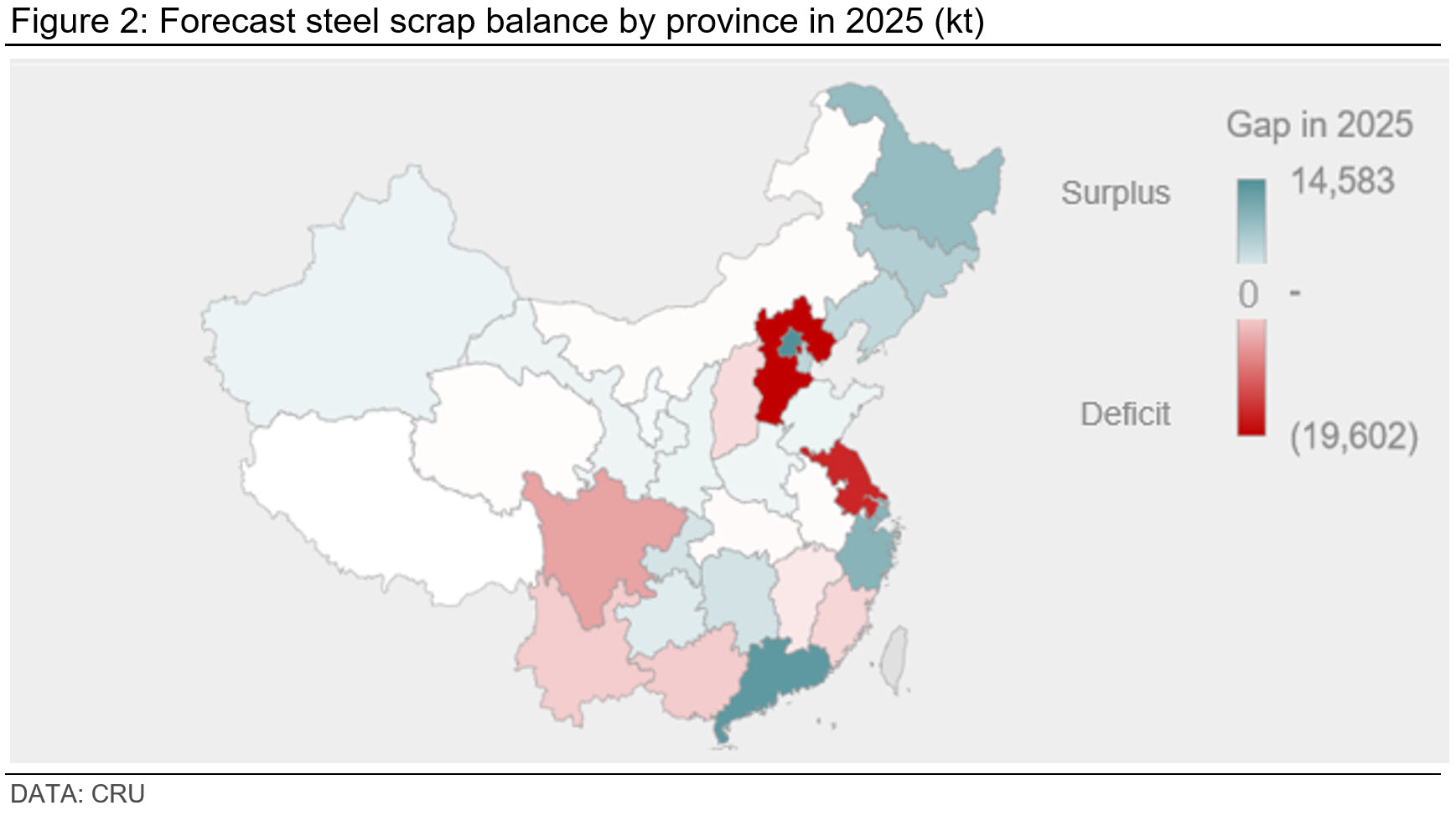 CRU Consulting modelled the costs for Chinese scrap processors in purchasing, collecting and processing various types of obsolete scrap, including heavy, medium and shredded scrap. Based on the model results, we found that the price of the raw materials (unprocessed ferrous scrap at steel end-users) is the largest cost component, accounting for more than 50% of total obsolete scrap costs. This component also tends to be imputed to price itself in the market, to allow most obsolete steel-containing goods that are available to be converted into scrap for their use in steel production. This unique CRU proprietary model was used for forecasting scrap availability and scrap costs in China and can also serve as an important component for assessing overall decarbonisation trends in the country.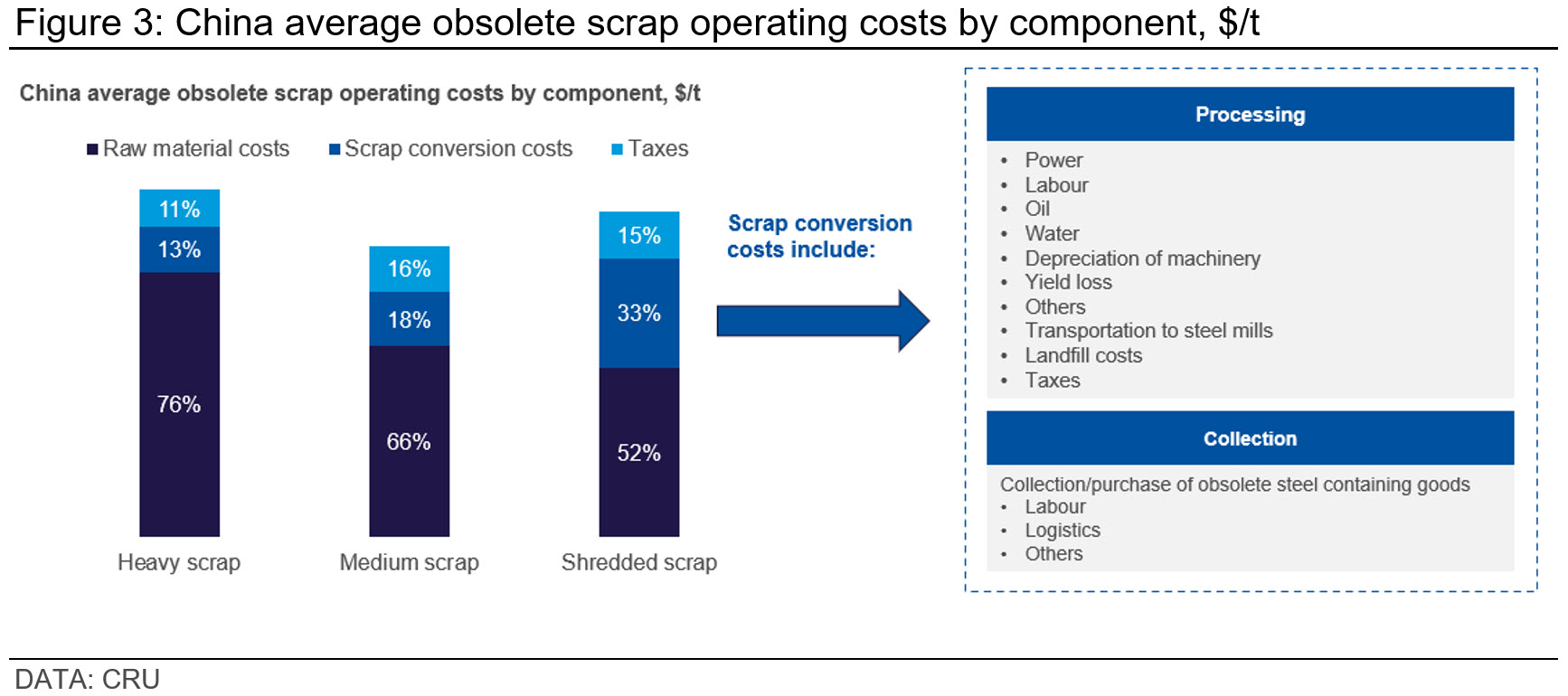 Our price and cost analysis suggested that in China, more than many other markets, ironmaking costs are one of the key drivers behind the dynamics associated with scrap prices.
In addition, our research and analysis on the bottlenecks of China's scrap market covered eight important areas, including: 1) collection and recycling efficiency, 2) quality issues, 3) tax regulations, 4) the level of integration across collectors, 5) processors and steel mills, 6) scrap substitutes, 7) barriers to entry and 8) the younger generation's willingness to work in the scrap recycling industry.  
What we brought to our client
The CRU Consulting team presented its analysis and findings to the client, including regular progress reports responding to questions during the research period. The knowledge and market intelligence that CRU provided during the course of this study enabled the client to have a much more comprehensive view of the impact of China's scrap generation on its market position, and its ability to sell iron ore into China in the future. Furthermore, this methodology can also be applied to long-term forecasting of scrap supply, demand, costs, and pricing.
How CRU Consulting could support you
From sourcing and investment strategies, to navigating shifting market dynamics, to policy making – could your business or organisation benefit from a more detailed and tailored look at recycling and scrap market trends? We look forward to exploring how CRU Consulting can help you and your business navigate the circular economy transition.
Explore this case study with CRU