A major iron ore and ferromanganese producer commissioned CRU to produce a detailed market report of the refined ferromanganese sector, including recommendations helping to support the company' strategic planning.
Ferromanganese products are consumed in steelmaking to improve some characteristics of the resultant steel. The majority of ferromanganese is sold in the High Carbon (HC) form, which contains between 2% and 7.5% carbon. It is commonly used in the production of flat carbon steel products. Refined (or Low & Medium Carbon) Ferromanganese, by contrast, contains less than 2% C and is an important additive into lower carbon steels used in automotive sheet and other high strength steel products. The value of refined FeMn is that it provides the benefits of manganese without the negatives of increased carbon content in the steel.
Our client is an established player in the industry and operates mines and processing facilities encompassing iron ore and a range of ferroalloys. The company was reviewing its strategic plan and approached CRU Consulting to provide independent forecasts and advice.
The key aims of the project were to identify the size and location of key markets and highlight market opportunities and risks, to investigate the implications of these developments on our client's business, and to advise on positioning the company to maximise opportunities and minimise risks.
Our recommendations
We made several recommendations to our client covering a range of topics including consumer preferences relating to different sources of manganese (high carbon, refined, electrolytic manganese metal or SiMn), forecast trade flows and import requirements, key markets and product placement. We also highlighted areas where we expect to see opportunities for growth in the future, accounting for both the position of our client and the placement of competition.
Our methodology
Through regular research conducted by CRU's analysis team we have a good understanding of the full value chain in the ferromanganese industry, including supply & demand, prices, production costs and trade. Despite this, the niche nature of the refined ferromanganese sector demanded substantially more research. CRU leveraged our internal data and contacts with industry participants to build up a robust picture of the market, enabling us to create reliable models and forecasts of demand trends. Key to our forecast was an analysis of the automotive sector and the evolving steel types (and therefore level of FeMn) consumed in autos manufacture.
Much of our research into demand side trends was through interviews with key industry participants. We contacted purchasing managers at a number of major consumers who were able to talk with authority about recent and current trends in steel producers as well as discussing the likely changes in steel types (and thus FeMn demand) over the coming years.
Outcomes
Through our comprehensive report and subsequent workshop with our client's management team we were able to deliver an insightful report and to feed into their decision-making process. The client appreciated the level of research and breadth of coverage and found the report and workshop to be useful in the development of their company strategy.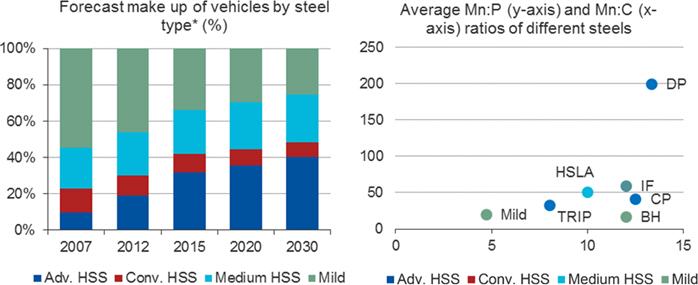 Explore this case study with CRU