Meet the CRU team at this strategic industry event in Cape Town. 
Mining Indaba returns to Cape Town 6-9 February 2023. Join investors, financiers, operators, suppliers, and mining & exploration companies for four days of unrivalled deal-making opportunities, industry-leading discussions and business-changing connections. It is the only place where the mining community comes together to spark change and drive investments into Africa.
2023 theme: Unlocking African Mining Investment: Stability, Security, and Supply
You can expect to delve into integral economic empowerment strategies, supporting supply chain security for the energy transition, and seizing investment opportunities capitalising on the commodities super cycle.
Book a meeting with CRU
Join the CRU team in Cape Town to discuss the key issues impacting Mining in Africa. Join global editors of CRU's market leading publications as they discuss today's most important issues with: 
Meet the Team 
Victor Rodriguez Senior Consultant - Victor has acted in various projects around the benchmarking of capital and operating expenditures of copper mines, and the analysis of the global nickel industry and associated "government take", among others. He has also been engaged in multi-commodity consultancy assignments covering Iron Ore, Copper, Fertilizers and Precious Metals.
Victor will be speaking on Tuesday's panel 09:35AM :
Supply Chains and the Just Energy Transition. The Move towards renewable Energy. 
Africa's rapid economic expansion creates daunting supply chain challenges, finding a sustainable way to meeting these challenges is one of the core development challenges for the continent 
The role of technology in this transition 
What is mining's role in delivering a just energy transition for the African continent?
Erik Hedborg, Principal Analyst - is the editor of CRU's Iron Ore Market Outlook, he previously worked as an analyst in the iron ore industry with special focus on the pellet market and China. Erik speaks fluent Chinese and holds a MSc from the Lulea University of Technology in Sweden and an MA from the Berlin School of Economics and Law.
Tumelo Mokohobo Business Development Manager SSA - Tumelo has extensive experience in business development and relationship management across Sub-Saharan Africa covering various entities across financial institutions, regulators, government entities, mining companies, PE/VC and asset managers, with recent roles at ABSA CIB and S&P Global Market Intelligence
Glenn Cooney, Head of Licensing and Vice President of Sales Europe, Middle East, India & Africa - has responsibility for ensuring that clients have the optimal licence to meet their requirements in relation to internal / external usage of CRU content. This includes Commercial Licenses: where clients reference CRU prices in their contractual arrangements and Republishing Licenses: where clients use limited extracts from CRU products in reports or presentations.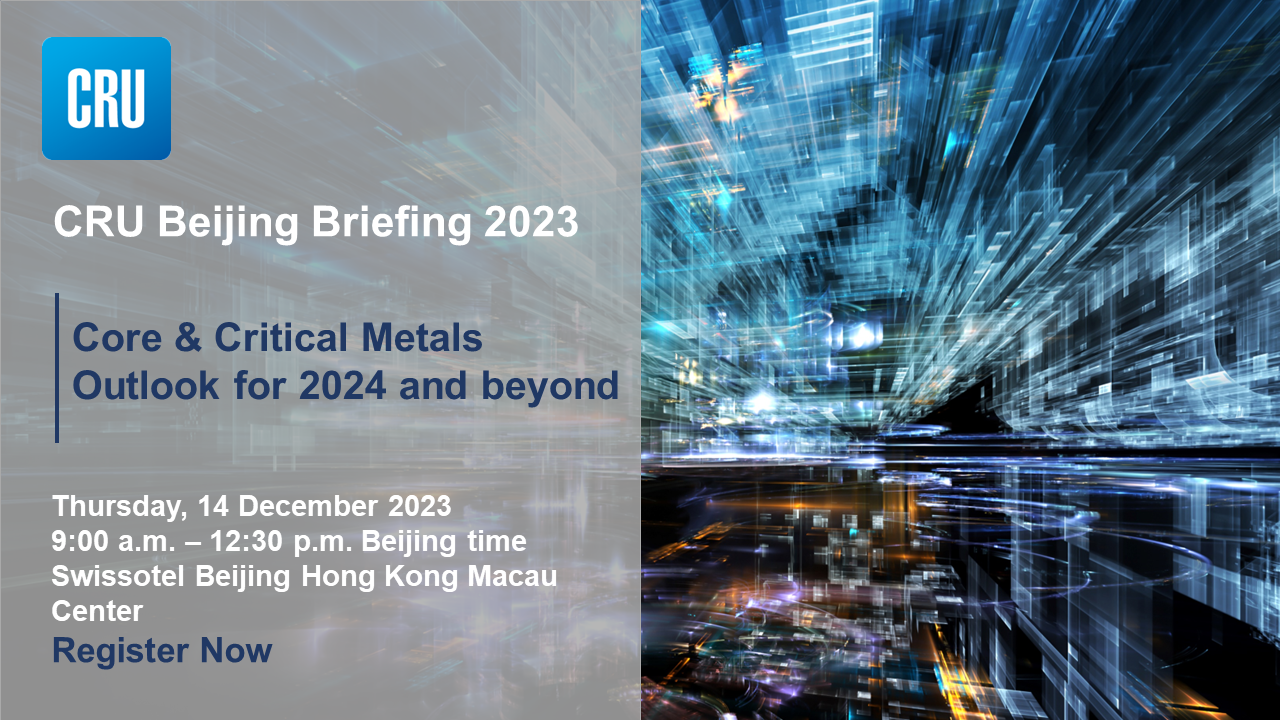 CRU Beijing Briefing - Dec 2023
CRU Beijing Briefing - Dec 2023 will be held on Thursday, 14 Dec 2023 in Beijing. Theme: Core & Critical Metals Outlook for 2024 and beyond Date: Thursday, 14 Dec 2023...
We provide more services...